New gluten-free savoury biscuit selection box from Nairn's
Just in time for Christmas, Nairn's have announced a limited-edition gluten-free Savoury Biscuit selection box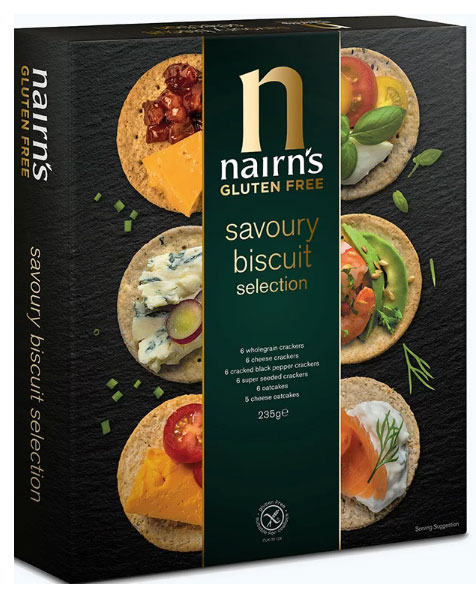 UK oatcake creator Nairn's dedicated gluten-free range is well-loved in the community. News of a new addition to the range will likely cause excitement – especially in the run-up to Christmas! Their gluten-free savoury biscuit selection box will likely make seasonal snacking a lot more delicious.
It's an all-encompassing gluten-free spread of Nairn's best-selling oatcakes and crackers, designed to be enjoyed by the entire family. Included in the box are 6 wholegrain crackers, 6 cheese crackers, 6 cracked black pepper crackers, 6 super seeded crackers, 6 oatcakes and 5 cheese oatcakes.
The fibre packed range is made from simple, natural ingredients with no artificial colours, flavours or preservatives.
RRP £3.75, Tesco.
Packed with all the goodness of wholegrain oats, Nairn's delicious oatcakes and oaty products are full of complex carbohydrates, soluble and insoluble fibre as well as being a source of key nutrients.
There's no need for high levels of sugar or artificial colours, flavours or preservatives; their Scottish oatcakes and oaty products are made from simple, natural ingredients, making them a great source of energy!
Last month Nairn's announced new 'Oaties' biscuits. The new gluten-free oat biscuits are described as "the dunkable, crumbly and syrupy cuppa companion you've been waiting for!" They're made with whole grain oats, are high in fibre and only 48 calories per biscuit.
In the last few years, Nairn's have committed to their gluten-free offerings. Nairn's investment of more than £6m to expand their gluten-free production is a testament to their oaty heritage and their continuing support to those following a gluten-free diet… Learn more about Nairn's in our 'In the Spotlight' feature.
Take a look at other Christmas offerings here
Follow us on Facebook, Twitter and Instagram for all the latest recipes, news and features from Gluten-Free Heaven.
Comments
Tags:
Biscuits
,
Christmas
,
News
,
Products