Pizza Express Launches Gluten-Free Pizza in Sainsbury's
Pizza Express has confirmed its is  'revitalising its retail range' with a brand new look, and are adding a new gluten-free 10″ Margherita pizza, sold exclusively through Sainsbury's.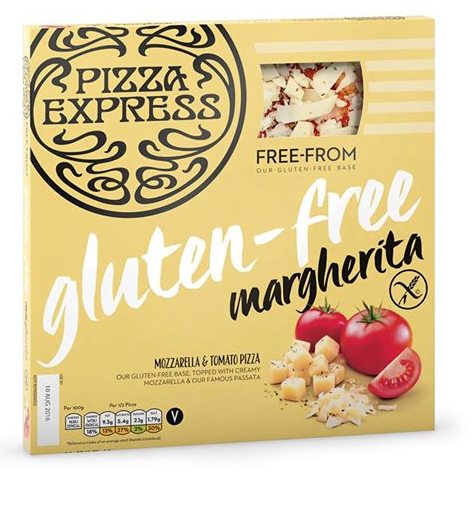 Following hot on the heels on the launch of their gluten-free doughballs, Pizza Express have now launched a new 10″ gluten-free Margherita pizza for those on a gluten-free diet to enjoy at home. The pizzas are made in their own bakery and are certified by Coeliac UK, and they have aimed to recreate the flavour of our famous classic base so you can enjoy your favourite Pizza Express recipes on a delicious gluten-free base.
Whilst this is currently the only gluten-free addition to their in-store range, Pizza Express are keen to stay ahead of the gluten-free game, which may mean we see a wider range of products available on supermarket stores in the near future.
"We foresee significant growth opportunities in this sector. The first phase of our strategy is to ensure that our customers are getting the best of the PizzaExpress restaurant experience at home, then we will build on that platform and reach more customers through new formats and channels." – Matt Ward, Pizza Express trading controller
The new gluten-free Margherita is available in selected Sainsbury's stores now, and retails at £4.

Tags:
Gluten-Free
,
Gluten-Free Diet
,
Gluten-Free Pizza
,
News
,
Supermarkets