Walker's Shortbread Relaunches Gluten Free Collection
Walker's Shortbread, expert bakers of the World's finest shortbread, has announced it is expanding its Gluten Free range with three new flavours, available exclusively in Sainsbury's stores nationwide now…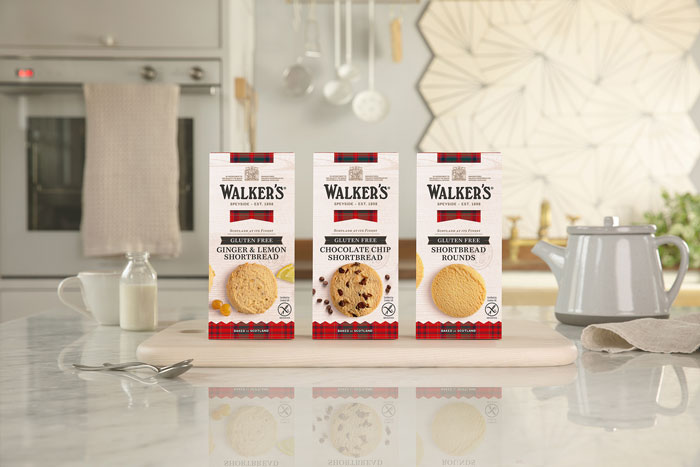 Walker's Shortbread, expert bakers of the World's Finest Shortbread for over 120 years, is unveiling an expansion of its Gluten-Free range.
Launching exclusively in Sainsbury's stores nationwide this month, the expanded range, certified by Coeliac UK, now comprises of three indulgent Walker's classics, Shortbread Rounds, Chocolate Chip Shortbread and Ginger & Lemon Shortbread.
With an estimated 1.3 million people in the UK now on a gluten free diet, and gluten-free food purchased or eaten by 22% of UK consumers, the range allows for both gluten-free followers and those with coeliac disease to enjoy more of their Walker's favourites.
Michael Brown, director of commercial services at Coeliac UK, the national charity for people with coeliac disease, said: "One in 100 people in the UK has coeliac disease, an autoimmune disease caused by a reaction to gluten, with an estimated half a million people currently undiagnosed. Having access to a wide variety of quality gluten free products is a priority and it's fantastic that an established brand such as Walker's is extending its range of gluten free shortbread. We are delighted that they have taken the very positive and encouraging step in ensuring their manufacturing process is independently audited, and products are independently accredited gluten free, which enables them to use the Crossed Grain symbol on packaging providing added reassurance to the coeliac community."
 Housed in Walker's beautiful new packaging, where the iconic tartan, Walker's Shortbreads' recognisable logo and the prestigious Royal Warrant take prominent place, Walker's Shortbread products are all based on a simple recipe which has been perfected by the family-run business (currently in its 5th generation) for the past 120 years.
The certified Walker's Shortbread Gluten Free range is available exclusively in Sainsbury's stores nationwide now.
Tags:
Gluten-Free Diet
,
Gluten-Free News
,
Gluten-Free Products
,
News
,
Products