Chocolate Roulade
A festive chocolate roulade recipe from Food Thoughts
A pudding that's as impressive as it is delicious, try this gluten-free chocolate roulade recipe from Food Thoughts.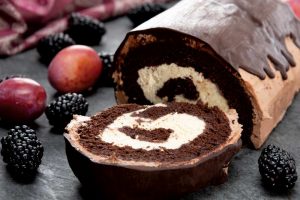 Multi-layered chocolate roulade
Ingredients
For the cake
180

g

caster sugar

180

g

Food Thoughts Fine Dark Chocolate 70% Cacao Melts

6

large free-range eggs, separated
White chocolate cream filling
100

g

Food Thoughts Fine White Chocolate 35% Cacao Melts

300

ml

double cream (or whipping cream for a lighter texture)

1

tsp

vanilla extract
Chocolate icing
100

g

Food Thoughts Fine Dark Chocolate 70% Cacao Melts

200

g

butter, at room temperature

100

g

icing sugar

80

g

Food Thoughts Organic 100% Cocoa Powder
For the topping
100

g

Food Thoughts Fine Dark Chocolate 70% Cacao Melts

70

g

unsalted butter
Instructions
Preheat the oven to 180oC/Gas Mark 4.

For the cake, put the Cacao Melts into a bowl and melt in the microwave in 30-second increments, or in a bain-marie (a bowl over a pan of hot water) until smoothly melted. Leave to cool slightly, but not solidify.

Separate the egg whites and yolks. Whisk the sugar and egg yolks together until light and fluffy, then add the chocolate, stirring until evenly mixed.

Whisk the egg whites in a separate bowl until stiff. Add a large spoonful to the chocolate mixture and gently mix. Fold in the remaining egg whites – folding to keep it light and airy.

Spread the mix evenly into a 33x23cm (13x9in) Swiss roll tin and bake for 20 minutes or until cooked and slightly spongy to the touch. Remove from the oven and cover with a tea towel until cold (this keeps it moist).

For the filling, put 100ml (31⁄2fl oz) cream into a bowl with the White Cacao Melts and place in a microwave or a bain-marie until fully melted. Whisk until smooth, then gradually add the remaining cream and vanilla. Transfer to a medium-sized bowl, cover and put in the fridge for at least an hour. Whisk until it just holds its shape, then spread on the cake (make sure it is cool before adding the cream filling).

To roll the roulade, dust some greaseproof paper with icing sugar or sieved cocoa powder. Turn the roulade out and peel off the baking parchment from the cake. Score a mark 3cm (13⁄4in) in along the short edge, then roll up as tightly as possible using the greaseproof paper to help. Don't worry if the roulade cracks.

For the icing, melt the chocolate very carefully over a bowl of hot water. Sieve the icing sugar and cocoa powder together, then carefully whisk in the butter and icing sugar mixture into the melted chocolate. Spread evenly over the roulade to totally coat.

Prepare the ganache topping by melting the dark chocolate in a bain-marie or a microwave at 30-second increments. Once melted, add unsalted butter a few pieces at a time until fully incorporated. Remove from the heat and allow to cool for 10 minutes. You want the ganache to be runny, but not piping hot at this stage – you do not want to risk melting the cream chocolate coating on your roulade.

Gently pour the chocolate over the roulade, then place in the fridge to chill. Serve with berries or seasonal fruits. If you wanted to add another dimension, you could add drizzled white chocolate to the outer chocolate coating.
Nutrition Facts
Multi-layered chocolate roulade
Amount Per Serving
Calories 701
Calories from Fat 499
% Daily Value*
Fat 55.4g85%
Protein 10.7g21%
* Percent Daily Values are based on a 2000 calorie diet.
More Christmas or more cake recipes!
Follow us on Facebook, Twitter and Instagram for all the latest recipes, news and features from Gluten-Free Heaven.
Comments
Tags:
Chocolate
,
Christmas
,
Gluten-Free Baking
,
Gluten-Free Cake
,
Gluten-Free Dessert
,
Gluten-Free Diet
,
Gluten-Free Recipes