Gluten Free Chocolate Gateau
A decadent dessert… Gluten Free Chocolate Gateau
It's party season, and what better way to celebrate than with a gluten free chocolate gateau from Freee Foods!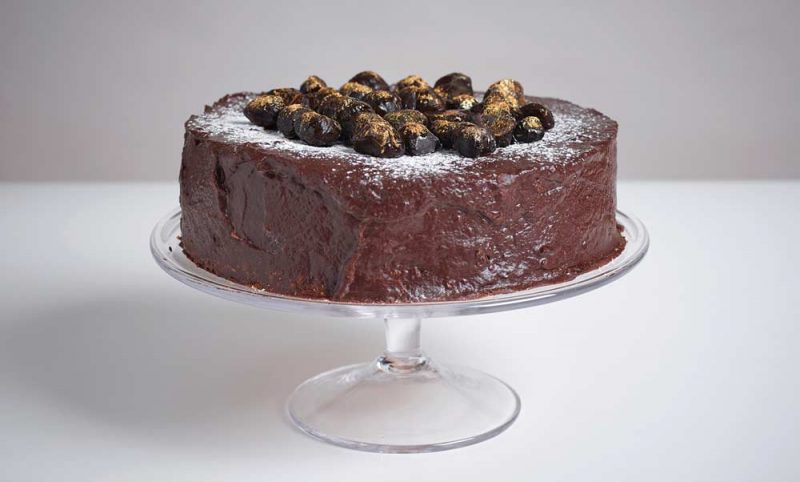 Chocolate and chestnut gateau
Ingredients
4

free-range eggs

200

g

icing sugar

1

tsp

vanilla extract

80

g

Doves Farm Gluten-Free Chestnut Flour

200

g

skinned chestnuts, cooked

200

g

granulated sugar

150

ml

water

250

ml

double cream

50

g

gluten-free white chocolate

2

tbsp

caster sugar

200

g

plain gluten-free chocolate

15

g

butter

1

tbsp

icing sugar

gluten-free edible gold dust
Instructions
Preheat the oven to 180 ̊C/Gas Mark 4. Line two 20cm (8in) loose-bottomed cake tins with parchment paper.

Separate the eggs and beat the whites until stiff. Add the sugar, a spoon at a time, while beating.

In another bowl, beat the egg yolks and vanilla until they thicken slightly, then fold into the egg white.

Sieve the chestnut flour into the bowl and fold in with the spoon.

Divide the mixture between the cake tins, smooth the tops, then bake in the oven for 55-60 minutes. Remove from the oven and leave to cool completely on a wire rack.

Put the sugar and water into a saucepan over a medium heat, stirring until dissolved. Add the chestnuts and simmer very gently for 25 minutes.

Leave to cool in the syrup, then drain the chestnuts and set aside.

Beat half the cream until just thick. Grate the white chocolate and stir it into the cream. Spread on one cake layer, then place the other cake on top.

Heat the remaining cream until almost boiling, remove from the heat and stir in the sugar, plain chocolate and butter. Cool slightly, then spread over the top and sides of the cake.

Dust lightly with icing sugar, place the candied chestnuts on top and brush a little gold dust onto each chestnut.
Nutrition Facts
Chocolate and chestnut gateau
Amount Per Serving
Calories 475
Calories from Fat 160
% Daily Value*
Fat 17.8g27%
Protein 4.2g8%
* Percent Daily Values are based on a 2000 calorie diet.
More gluten-free dessert recipes!
Follow us on Facebook, Twitter and Instagram for all the latest recipes, news and features from Gluten-Free Heaven.
Tags:
Chocolate
,
Gluten-Free
,
Gluten-Free Baking
,
Gluten-Free Cake
,
Gluten-Free Dessert
,
Gluten-Free Diet
,
Gluten-Free Recipes
,
Nuts