Gluten-Free Gingerbread Cake
A gluten-free gingerbread cake recipe for the festive season
Make yourself a delicious gluten-free gingerbread cake – it's also vegan!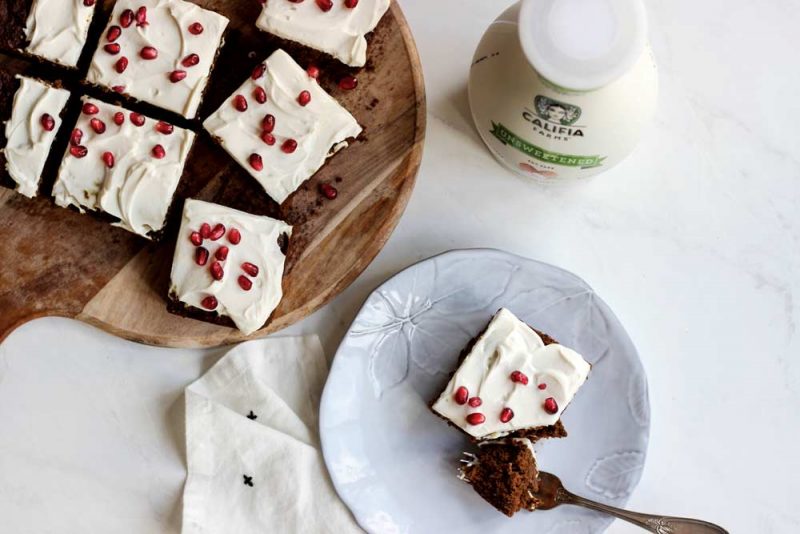 Gingerbread cake
Ingredients
For the frosting
450

ml

plain unsweetened coconut yoghurt

3-4

tbsp

maple syrup

1/2

tsp

vanilla extract

a pinch of salt
For the egg substitute
2

tbsp

ground flaxseeds

6

tbsp

water
Dry ingredients
225

g

brown rice flour or almond flour

45

g

chickpea flour

1 1/2

tsp

ground ginger

1

tsp

ground cinnamon

1/2

tsp

cardamom

1/2

tsp

salt

1

tsp

gluten-free baking powder

1

tsp

bicarbonate of soda
Wet ingredients
340

ml

Califia Farms Almond Milk

115

ml

coconut oil, melted

plus extra for greasing

175

g

blackstrap molasses

115

ml

pumpkin puree

85

g

coconut sugar

1

tsp

vanilla extract
Instructions
Start the frosting first: Line a fine-mesh strainer with 2 paper towels and place over a bowl so it comfortably sits above the bottom of the bowl. Add the yoghurt to the strainer and place in the fridge to set for 2 hours or overnight.

Preheat the oven to 180oC/ Gas Mark 4. Cover the inside of a square or 20x20cm (8x8in) round cake tin with a thin layer of coconut oil and set aside.

In a medium mixing bowl, mix together ground flaxseeds and water and set aside to let stand (this creates the gel-like consistency that acts as a binder).

In another large bowl, combine all the dry ingredients and mix together with a fork or a whisk. In the bowl that has your flax eggs in it, add the wet ingredients and mix together with a fork until well combined.

Add the wet ingredients to the dry ingredients in the large mixing bowl. Mix together with a rubber spatula until well combined with minimal clumps. This is a slightly thicker mixture than a typical cake mixture, but don't worry.

Pour the batter into the prepared cake tin, then bake in the oven for 30-35 minutes until firm and a toothpick comes out clean when poked in the middle. Let the cake cool completely before removing from the tin.

Just before you're ready to serve, combine the strained coconut yoghurt and maple syrup (starting with 3 tbsp and tasting it, adding more as needed). Add the vanilla extract and salt. in another bowl and whip together with an electric mixer or whisk until fluffy.

Top the cake with the frosting just before you're ready to serve and sprinkle with pomegranate seeds, if using.
Nutrition Facts
Gingerbread cake
Amount Per Serving
Calories 330
Calories from Fat 158
% Daily Value*
Fat 17.5g27%
Protein 2.7g5%
* Percent Daily Values are based on a 2000 calorie diet.
More gluten-free recipes, including festive recipes! 
Follow us on Facebook, Twitter and Instagram for all the latest recipes, news and features from Gluten-Free Heaven.
Tags:
Dairy-Free Dessert
,
Dairy-Free Diet
,
Dairy-Free Recipes
,
Egg-Free
,
Gluten-Free Baking
,
Gluten-Free Cake
,
Gluten-Free Dessert
,
Gluten-Free Diet
,
Gluten-Free Recipes
,
Recipes
,
Vegan
,
Vegan and Gluten Free
,
Vegan Dessert
,
Vegan Diet
,
Vegan Recipes
,
Winter