Gluten-free hazelnut brownies
You can't beat some brownies on a cold winter day, except perhaps when they're gluten-free hazelnut brownies!
Gluten-free hazelnut brownies, made from Premium cacao from Food Thoughts.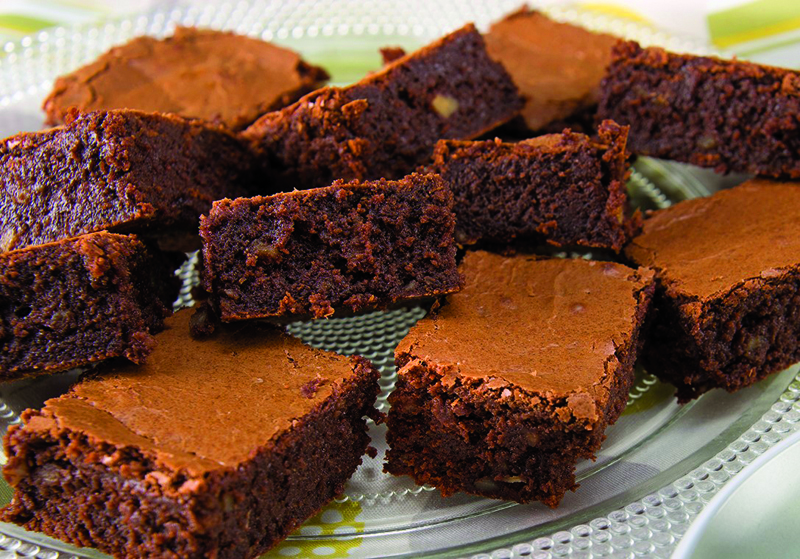 Gluten-free hazelnut brownies
Ingredients
200

g

Food Thoughts 70% Cacao Chocolate Melts

100

g

unsalted butter, at room temperature

200

g

caster sugar

4

large free-range eggs, at room temperature

60

g

gluten-free flour

60

g

Food Thoughts Organic Cocoa Powder

1

tsp

vanilla extract

50

g

finely chopped or coarsely ground hazelnuts (or walnuts, pecans, pistachio) – optional
Instructions
Preheat the oven to 180oC/Gas Mark 4. Grease a 28x18x2.5cm (11x7x1in) baking tin or brownie tin and line with greaseproof paper.

Put the chocolate Melts into a heatproof bowl set over a pan of hot, but not boiling, water, making sure the base of the bowl does not touch the water. Leave to melt, stirring occasionally, then remove the bowl from the pan. Alternatively, microwave in 30-second increments until melted.

Whisk the butter and sugar together in a bowl until light and fluffy. Gradually add the eggs, beating well after each addition.

Add the vanilla extract and the cacao chocolate and stir in gently using a spatula. Sieve the flour and cocoa powder into the bowl, then fold in the nuts until the mixture is combined.

Spoon the mixture into the prepared tin and spread evenly, then place on the middle shelf of the oven.

Bake for 25-35 minutes until the mixture feels firm when pressed, but not too hard! Remove from the oven and cool in the tin on a wire rack. When cold, cut the brownie into 24 squares and dust with icing sugar or cocoa powder. They can be served warm with a touch of cream – enjoy!
Read more about baking with chocolate from Food Thoughts here.
Follow us on Facebook, Twitter and Instagram for all the latest recipes, news and features from Gluten-Free Heaven.
Comments
Tags:
Brownies
,
Chocolate
,
Gluten-Free Baking
,
Gluten-Free Dessert
,
Gluten-Free Diet
,
Gluten-Free Recipes
,
Recipes