Gluten-Free Pistachio Tart
Gluten-Free Pistachio tart recipe by Holly Jade of The Little Blog of Vegan
A proper grown-up dessert, bake this gluten-free pistachio tart for a satisfying treat. If you have a blow torch you can whip it out and toast the meringue!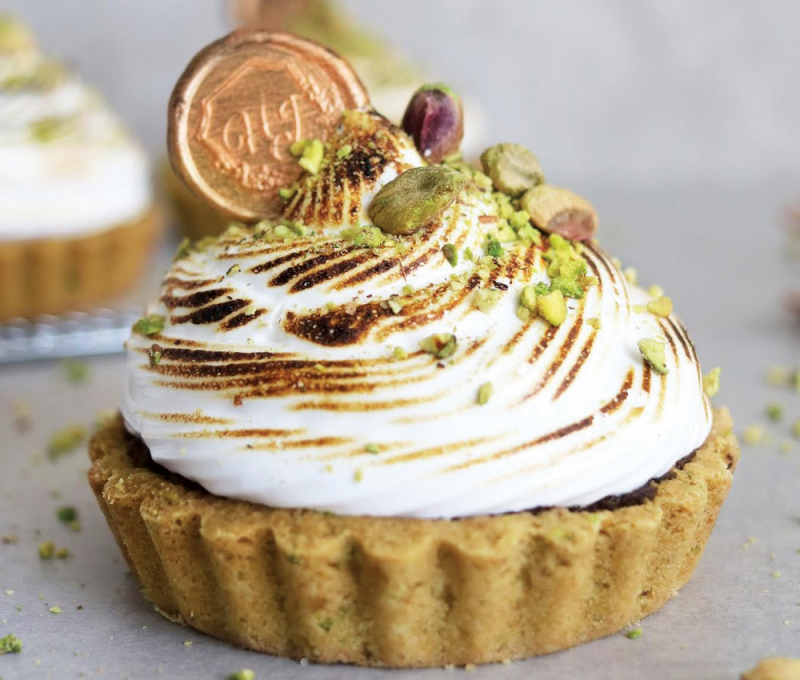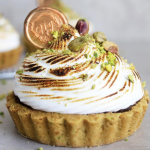 Pistachio Tart
Ingredients
For the crust
200

g

gluten-free plain flour

125

g

coconut oil, melted

4

tbsp

maple syrup

15

g

crushed pistachios
For the filling
1

avocado, mashed

2

tbsp

dairy-free chocolate, melted

2

tbsp

cacao powder

peanut butter (optional)
For the meringue
100

g

chickpea brine

75

g

golden caster sugar

1

tsp

vanilla extract

1 1/2

tbsp

cream of tartar
Instructions
For the crust
Preheat the oven to 180oC/Gas Mark 4 and line 6 mini tartlet tins with greaseproof paper, or grease with vegan butter.

In a mixing bowl, combine the flour, coconut oil, maple syrup and pistachios. Mix and bring together with your hands until a dough forms.

Press the dough into the lined tins, prick the base with a fork, then bake for 9-10 minutes, until golden in colour. Allow to cool fully before filling.
To make the filling
Peel and de-stone an avocado and place into a bowl.

Add the melted chocolate and cacao powder and mix until combined and smooth.

Spoon some of the chocolate filling into each tart and level with a spoon or spatula.

Swirl some peanut butter into the chocolate filling if desired.
To make the meringue
Drain the chickpea brine from a tin of chickpeas and place into a mixing bowl. Whizz up on high until foamy, then add the cream of tartar. Add the sugar and continue to whip until stiff meringue peaks form.

When thick and glossy, add the vanilla.

Place the meringue in a piping bag fitted with a patisserie nozzle and pipe a swirl of meringue onto each tartlet. You can toast the meringue either using a blow torch or by popping under the grill for a few seconds.
Nutrition Facts
Pistachio Tart
Amount Per Serving
Calories 570
Calories from Fat 309
% Daily Value*
Fat 34.3g53%
Protein 7.6g15%
* Percent Daily Values are based on a 2000 calorie diet.
As featured in the June 2019 issue of Gluten-Free Heaven magazine
Follow us on Facebook, Twitter and Instagram for all the latest recipes, news and features from Gluten-Free Heaven.
Tags:
Dairy-Free
,
Dairy-Free Dessert
,
Dairy-Free Recipes
,
Egg-Free
,
Gluten-Free Baking
,
Gluten-Free Dessert
,
Gluten-Free Diet
,
Gluten-Free Recipes
,
Tarts
,
Vegan
,
Vegan and Gluten Free
,
Vegan Dessert
,
Vegan Recipes