Gluten-free plum panettone pudding
Panettone is an Italian sweet bread, and so this dessert is a twist on a classic bread and butter pudding. Bake this gluten-free plum panettone pudding for a comforting treat.
Tip: For an everyday version, use regular two-day-old white gluten-free bread.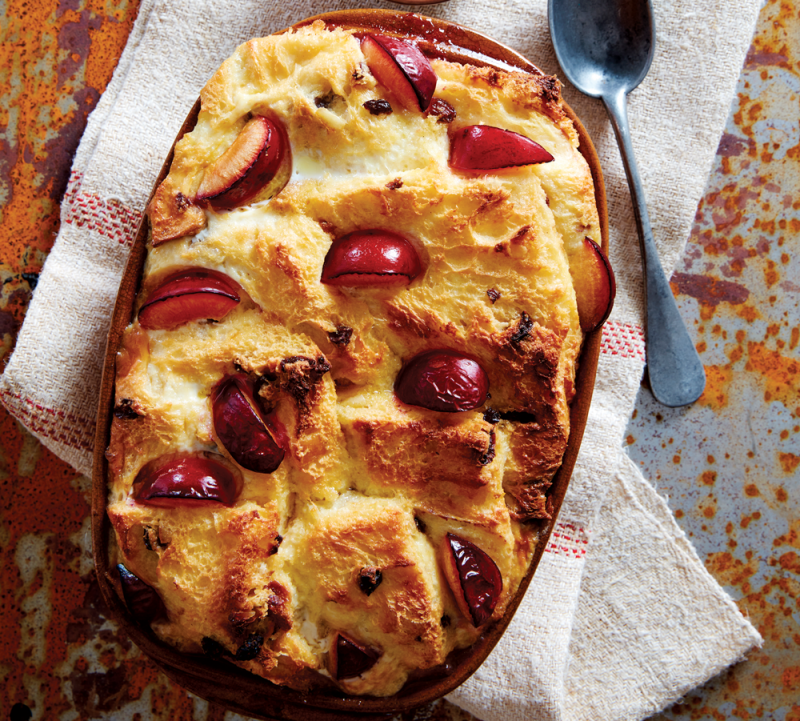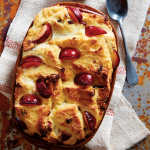 Gluten-free plum panettone pudding
Ingredients
6

South African Bubblegum plums, pitted and sliced

40

g

butter

6

slices of gluten-free panettone or brioche

weighing about 300g

300

g

large free-range eggs

600

ml

milk

150

ml

single cream, plus extra to serve

40

g

caster sugar

1

tsp

vanilla extract

whipped cream or mascarpone, to serve
Instructions
Arrange half the plum slices in the base of a 1.5 ltr (2½pt) baking dish. Use 1 tsp butter to grease around the sides and rim of the dish. Spread the remaining butter over the slices of panettone or brioche. Cut into triangles, then arrange in the dish, overlapping to fit. Tuck the remaining plum slices in among the bread.

Beat together the eggs, milk, single cream, caster sugar and vanilla extract. Allow a few minutes for the sugar to dissolve. Pour slowly into the dish, over the bread. Cover and allow to stand for at least 30 minutes. (If you want to cook the pudding later, refrigerate until required).

Preheat the oven to 180°C/Gas Mark 4. Stand the baking dish on a baking sheet.

Bake for 30-35 minutes until puffed up and golden brown. Cool for a few minutes, then serve with whipped cream or mascarpone.
Nutrition Facts
Gluten-free plum panettone pudding
Amount Per Serving
Calories 421
Calories from Fat 194
% Daily Value*
Fat 21.6g33%
Protein 12g24%
* Percent Daily Values are based on a 2000 calorie diet.
As featured in the December 2019 issue of Gluten-Free Heaven magazine
More gluten-free dessert recipes
Follow us on Facebook, Twitter and Instagram for all the latest recipes, news and features from Gluten-Free Heaven.
Tags:
Fruit
,
Gluten-Free Baking
,
Gluten-Free Bread
,
Gluten-Free Dessert
,
Gluten-Free Recipes