Garlic mushroom gluten-free sweet potato gnocchi recipe by Fullgreen
A healthy gluten-free meal option, this gluten-free sweet potato gnocchi recipe takes just 30 minutes to make!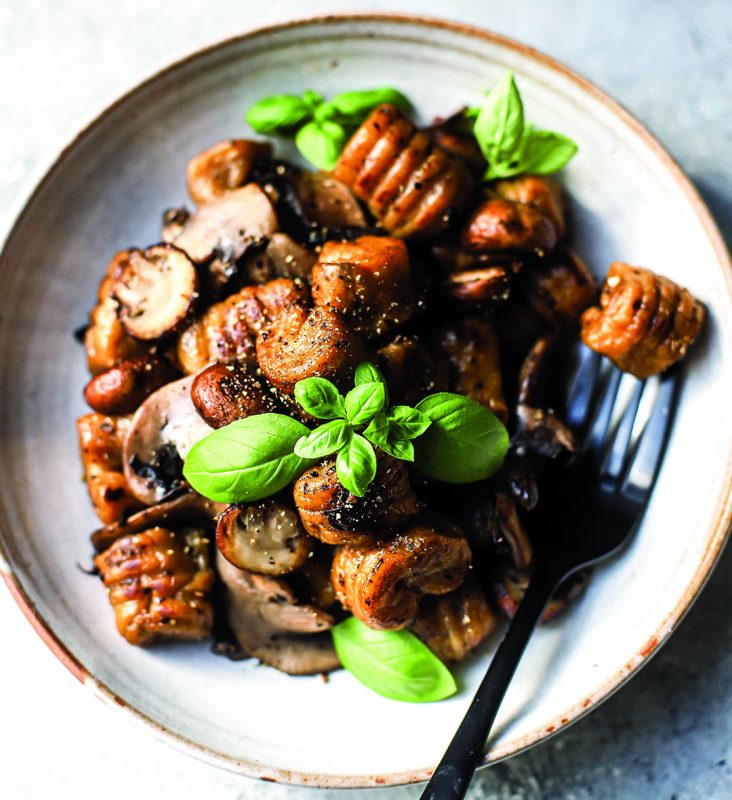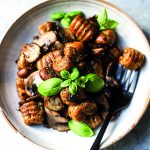 Garlic mushroom sweet potato gnocchi
Ingredients
1

pack of Fullgreen Sweet Potato Rice

250

g

gluten-free flour

1

free-range egg

a pinch of sea salt and freshly ground black pepper

butter, for cooking

2

garlic cloves, peeled

3

large flat mushrooms

200

g

button mushrooms fresh basil, to garnish
Instructions
For the gnocchi dough, squeeze as much moisture as possible from the rice and add this to a large mixing bowl. Sift in the flour and add a good pinch of salt and pepper.

Give everything a good mix, then crack in the egg and continue to mix until the dough comes together. You can add extra flour here if the mixture is too sticky.

Once you're left with a mouldable dough consistency, transfer to a floured surface or cutting board

Take one section of the dough and roll into a flat sausage shape. Cut into small bite-sized pieces. You can either leave these like this, or roll on the back of a fork to create that ridged classic gnocchi shape. Repeat for the remaining dough.

To cook the gnocchi, bring a saucepan of water to a rolling boil and carefully place the gnocchi into the pan. (This makes quite a large batch, so you can always save some in the fridge for another day).

Cook until they begin to float, then remove with a slotted spoon and place onto a plate lined with kitchen paper to drain any excess water.

In a frying pan, heat a heaped tsp of butter over a medium heat and grate in the garlic cloves.

Slice the mushrooms into thin slices and halves and add into the pan. Sauté until beautifully golden brown and starting to caramelise.

Add in the gnocchi and a touch of extra butter. Cook until they've lightly crisped on the outside and season to taste.

Serve garnished with some fresh basil and an extra crack of black pepper.
Nutrition Facts
Garlic mushroom sweet potato gnocchi
Amount Per Serving
Calories 299
Calories from Fat 45
% Daily Value*
Fat 5g8%
Protein 10.9g22%
* Percent Daily Values are based on a 2000 calorie diet.
As featured in the February 2020 issue of Gluten-Free Heaven magazine
More gluten-free dinner recipes
Follow us on Facebook, Twitter and Instagram for all the latest recipes, news and features from Gluten-Free Heaven.