Mini Chicken, Leek and Bacon Pies
Becky Excell's first cookbook: 'How to Make Anything Gluten Free', is out today with over 100 recipes for everything from home comforts to Fakeaways, cakes to dessert, brunch to bread.
The first recipe we're showcasing is her Mini Chicken, Leek and Bacon Pies: "With tons of creamy, chunky filling encased in buttery pastry, I'm in love with these cute little, single-serve pies. At home, I use two 10cm / 4in round ceramic pie dishes to make these, but if making one large pie, you'll need to double the quantity of pastry and multiply the filling ingredients by 1.5."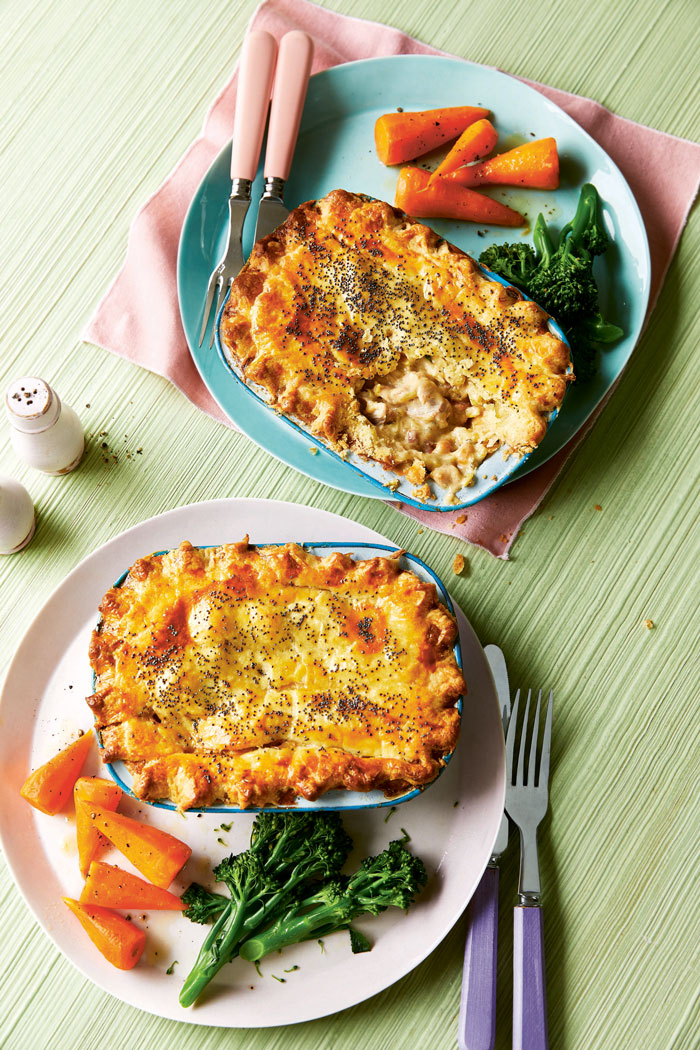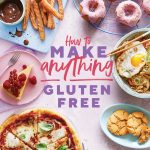 How to Make Anything Gluten Free by Becky Excell
(Quadrille, £20)
Photography © Hannah Rose Hughes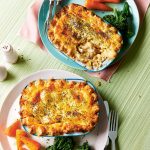 Mini Chicken, Leek and Bacon Pies
With tons of creamy, chunky filling encased in buttery pastry, these cute little, single-serve pies are magical...
Ingredients
1

quantity

quantity of gluten-free shortcrust pastry

(see below)

1

free-range egg

beaten

1

handful

poppy seeds

optional
For the filling
250

g

boneless, skinless chicken thigh fillets

100

g

smoked streaky bacon

diced

90

g

leek

chopped

2

tbsp

gluten-free plain (all-purpose) flour

plus extra for dusting

400

ml

gluten-free chicken stock

1

sprig

rosemary

finely chopped

2

tbsp

double cream

salt & freshly ground black pepper
For the pastry
200

g

gluten-free plain (all-purpose) flour

1

tsp

xanthan gum

100

g

very cold butter

cut into 1cm / ½in cubes

1

large

free-range egg

beaten

3-5

tsp

cold water
Instructions
For the pastry
In a large mixing bowl, mix together your flour and xanthan gum.

Make sure your butter is really cold: if not, put it into the fridge or freezer until nicely chilled, then add to the bowl and mix it into the flour.

Using your fingertips, rub the butter into the flour to form a breadcrumb-like consistency. Make sure your hands are cool as we want to avoid the butter getting warm! 

Add in your beaten egg and, using a knife, carefully cut it into the mixture. You don't want it to come together just yet, so don't use your hands to push it together, even if it feels like you could.

Add the cold water a teaspoon at a time, using your knife to cut it in. The mixture will start to really come together at this point. I find that, at around 3 teaspoons, it's about the right consistency to push together into a ball with my hands. It should be a little sticky to touch but not unmanageable.

Wrap the dough in cling film and leave to chill in the fridge for around 25 minutes before using. You can freeze this pastry for up to 2 months; defrost fully before using.

T I P : Chill! Using cold water, cold butter and chilling the dough makes your gluten-free pastry stronger and more workable. Making any type of pastry on an incredibly hot day isn't advisable, as the warmer your dough is, the more fragile it will become.

T I P : If you don't have time to make your own pastry, use store-bought gluten-free pastry instead.
For the filling
Cut the chicken into small strips no more than 2cm/ ¾in long. 

Place a large pan over a medium heat, add your bacon and fry until the fat begins to brown, then add your leek and chicken strips. Fry for 3–4 minutes, occasionally stirring, until the chicken is sealed.

Add in your flour and mix until everything is evenly coated, then add the stock and rosemary, and season with salt and pepper. Bring to the boil and simmer for 10 minutes or until the gravy has nicely thickened. Remove from the heat and, after 5 minutes, stir in the cream and leave to cool.

Preheat your oven to 200°C fan / 220°C / 425°F.

Remove your pastry from the fridge – if it feels really firm when you take it out, leave it out at room temperature briefly. Don't handle your dough excessively as this will warm it up and make it more fragile. 

Cut the ball of pastry in half and lightly flour your rolling pin. 

On a sheet of non-stick baking parchment, roll out one portion of the dough to a 3mm / ⅛in thickness. If using a round 10cm / 4in pie dish, cut out a 12cm / 4¾in circle from your rolled-out pastry. 

Transfer this to a pie dish and gently push the pastry in, using your fingers, leaving a little overhang, but trimming off any excess that hangs down over the edge of the dish. If using a rectangular pie dish, ensure that you have rolled your pastry into a rectangular shape, then simply transfer the pastry to the pie dish as above, trimming any excess.

Form the leftover pastry scraps back into a ball and reroll out to a 3mm / ⅛in thickness. 

Place your second pie dish face down onto the rolled-out pastry and trace around it with a knife to create a lid. Place the lid to one side (you'll need to trace around it with a knife to make the second lid later). Repeat with the other half of your dough and second pie dish.

Divide your pie filling between the pie dishes and brush the overhang with egg. Place your pastry lids on top and pinch the edges together to crimp them tightly shut.

Brush each pie with beaten egg and sprinkle with poppy seeds, if you like. Lastly, make a small hole in the very middle of the top of each lid by gently prodding with a sharp knife and twisting. 

Cook in the oven for 30 minutes until golden, then serve with mashed potato, veggies and gluten-free gravy.
Tags:
Gluten-Free Diet
,
Gluten-Free Dinner
,
Gluten-Free Lunch
,
Gluten-Free Recipes
,
Recipes