Mini Tarts with Vanilla Pudding
Make the most of the last of this season's figs by whipping up a batch of these perfect little individual sized gluten-free mini tarts, filled with creamy vanilla pudding, and topped with blueberries and figs.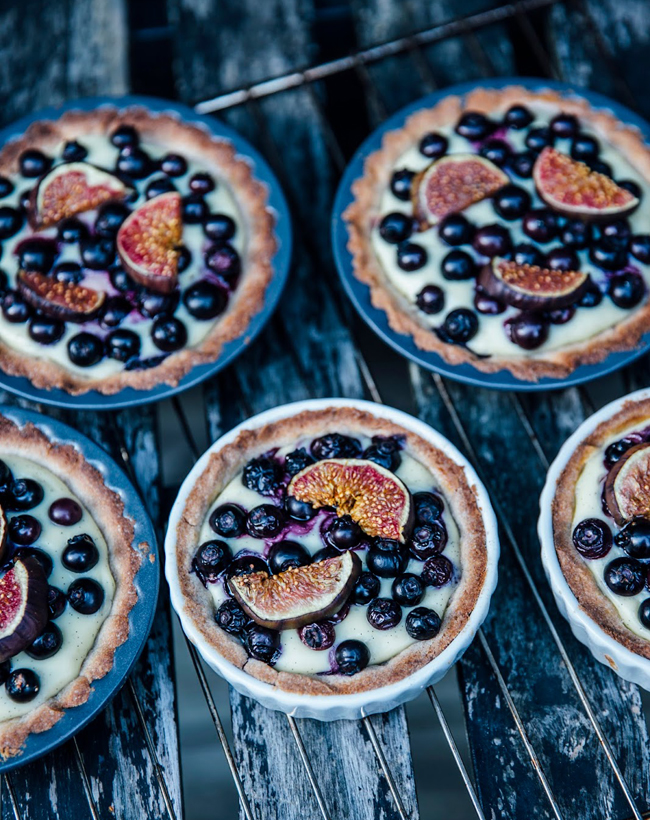 Mini Tarts with Vanilla Pudding
By Nora Eisermann and Laura Muthesius (www.ourfoodstories.com)
Serves 4 (12cm tart tins) | Prep 20 mins | Cook 35 mins |
GF MF
200g rice flour

125g cold butter

100g cane sugar

1 dash of salt

1 egg
1 pk vanilla custard powder (40g)

500ml milk

45g sugar

1 vanilla bean
250g blueberries
3 figs
Blueberry powder (e.g. from mill&mortar)
Blend rice flour, sugar and salt. dice cold butter and knead the butter in the flour-sugar-mix together with the egg – work quickly.
Shape pastry to a flat brick, wrap in clingfilm and cool for minimum 1 hour in the fridge.
Before you roll out the pastry, prepare the vanilla pudding as explained on the packing instructions (we added some extra vanilla pulp, because then the flavor is even more intense).
Preheat oven to 180degrees celsius top/bottom heat. Butter your tarte pans.
Take half of the pastry off the fridge and roll out between 2 layers of floured clingfilm or baking paper.
Divide in 2 parts and turn the pastry upside down on the tarte pans. Press the dough on the pans and prick the crust with a fork. Prepare the second half of the pastry in the fridge the same way.

Bake the tarte crusts for 15min blind, then fill with vanilla pudding and berries and bake for another 10-15min (5min before end, add the fig slices). Let it cool down a bit, then serve lukewarm – we decorated with some blueberry-powder. Bon appétit!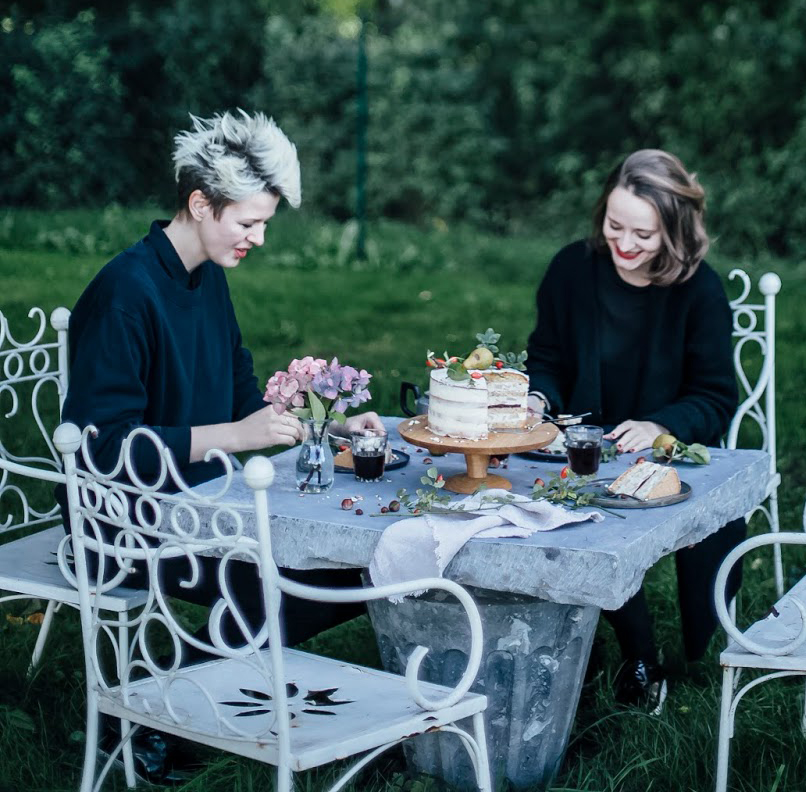 About the authors: Nora studied fashion design, and is now working as a (food)stylist,  and Laura, who studied photography, works as a photographer. They decided to start their blog, Our Food Stories, while Laura was feeling unwell due to her gluten- and histamine-intolerance. They started to cook together every day, and while they were looking for recipes they realised that there were very few recipes that were both low on histamine and gluten-free. They want to show people how easy and delicious it is, to prepare gluten-free meals, and that your gluten-free lifestyle does not mean you have to miss out on delicious food. You can get in touch with Laura and Nora on Facebook, Twitter and Instagram.
Tags:
Gluten-Free Diet
,
Gluten-Free Recipes
,
Tarts