Peanut cauliflower rice salad
Chopped cauliflower rice salad with peanut dressing, recipe from Skippy
A simple and healthy cauliflower rice salad with a delicious peanut butter dressing.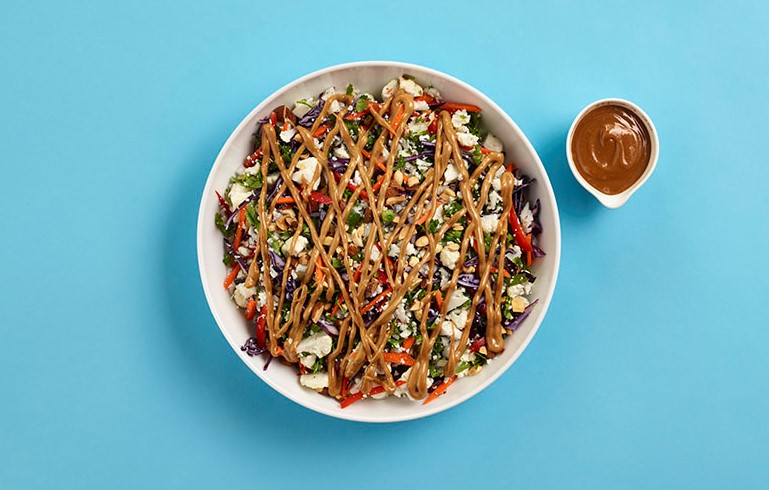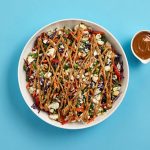 SKIPPY® Chopped Cauliflower Rice Salad with Peanut Dressing
Ingredients
1

medium cauliflower head, finely chopped, leaves discarded

30

g

chopped roasted peanuts, coarsely chopped

35

g

toasted whole almonds, coarsely chopped

1

carrot, peeled and shredded

1

red bell pepper, thinly sliced

50

g

red cabbage, thinly sliced

4

spring onions, chopped

Handful chopped fresh parsley leaves

Handful chopped fresh coriander leaves

3

tbsp

Skippy Smooth Peanut Butter

2

tbsp

tamari sauce

3

tbsp

olive oil

3

tbsp

fresh lime juice

2-3

cm

ginger piece, peeled and finely grated

1

tbsp

agave syrup
Instructions
In a large bowl, combine cauliflower and next 8 ingredients.

In a small bowl, whisk together peanut butter and remaining ingredients.

Drizzle over cauliflower mixture, tossing to coat.
Follow us on Facebook, Twitter and Instagram for all the latest recipes, news and features from Gluten-Free Heaven.
Tags:
Dairy-Free
,
Dairy-Free Recipes
,
Egg-Free
,
Gluten-Free Diet
,
Gluten-Free Lunch
,
Gluten-Free Recipes
,
Nuts
,
Salad
,
Vegan
,
Vegan and Gluten Free
,
Vegan Diet
,
Vegan Lunch
,
Vegan Recipes