Becky Excell shares her delicious recipe for a festive pineapple and coconut trifle!
A pineapple and coconut trifle that will certainly go down well this Christmas…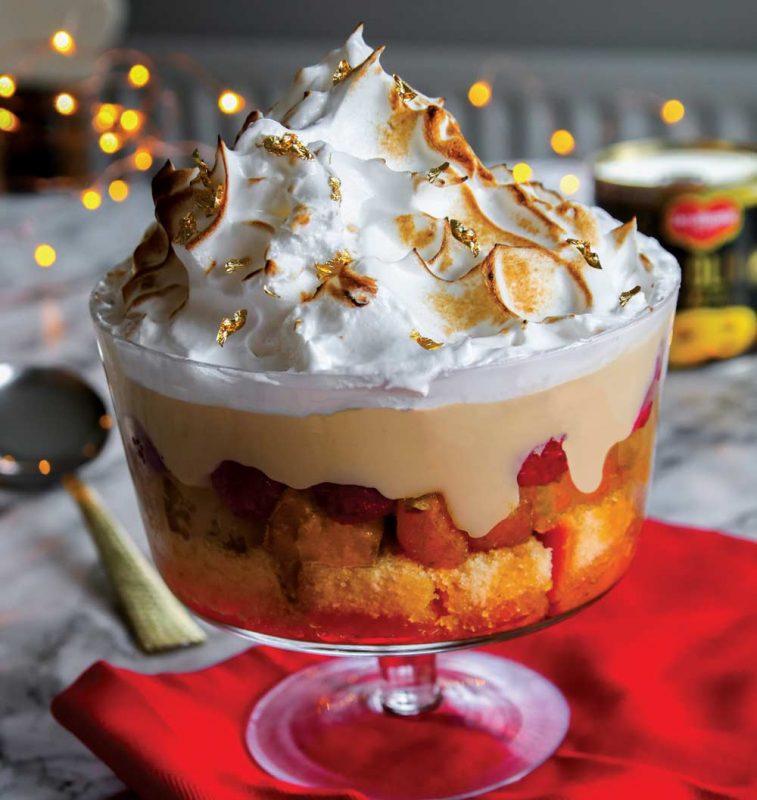 Pineapple and coconut trifle
Ingredients
For the sponge layer
250

g

gluten-free Madeira cake

edible gold leaf (optional)

handful of fresh raspberries
For the coconut custard layer
1

tin of full-fat coconut milk

4

free-range egg yolks

(as fresh as possible)

50

g

caster sugar

40

g

cornflour

2

gelatine leaves
For the caramelised gold pineapple layer
1

43g tin of Del Monte Gold Pineapple Chunks (drained)

75

ml

pineapple juice (from the pineapple tin)

2

tbsp

lime juice

1

grated zest of 1 lime

200

g

caster sugar

2

tbsp

dairy-free margarine
For the meringue layer
4

free-range egg whites

(as fresh as possible and at room temperature)

200

g

caster sugar

100

ml

water

1/2

tsp

cream of tartar
Nutrition Facts
Pineapple and coconut trifle
Amount Per Serving
Calories 559
Calories from Fat 193
% Daily Value*
Fat 21.4g33%
Protein 32g64%
* Percent Daily Values are based on a 2000 calorie diet.
Method
Firstly, we'll create the sponge layer in our trifle dish. Slice your gluten free Madeira sponge cake into thin finger shapes. Take your 2.5l trifle bowl and fill the bottom with your gluten free Madeira sponge fingers. That's your first layer done!

For your coconut custard, start by pouring your coconut milk into a small saucepan and simmering until all the chunks have melted.

Take your gelatine leaves and soak them in a bowl and set aside. We'll need these later.

While that's warming, grab a glass bowl and add in your egg yolks, caster sugar and cornflour. Whisk this all together until nice and smooth. Add your now warmed coconut milk. Whisk again until smooth.

Now take your glass bowl and place it on top of a large saucepan of gently simmering hot water. Make sure your bowl doesn't touch the water! Keep whisking your mixture until it thickens to

look like custard.

Keep whisking again until you're left with a nice, smooth consistency. This will take about 15 mins.

Remove from the heat and place onto a tea towel. Add your gelatine leaves and whisk in until smooth. Immediately cover the bowl with clingfilm and place in the fridge.

Next up, the caramelised

G

old pineapple. Start by melting your dairy free margarine and caster sugar in a large saucepan until the sugar is totally liquid. Then, add your drained Del Monte

®

Gold pineapple and juice. Keep on mixing at this point, as the caramel will get really sticky!

Add your lime

juice and

zest. Increase the heat a little so that all the lumpy, sticky bits of caramel melt again. You should be left with pineapple in a nice, clear consistent drizzle.

Ok – back to your trifle dish! Add your

caramelised Del Monte® Gold pineapple

on top of the sponge layer and pour the drizzle all over so the sponge can absorb it. Now for the final layer – the Italian meringue!

Start by melting caster sugar and water in a small saucepan on a low heat whilst constantly stirring. Keep this nice and warm while you do the next bit.

In a standing mixer, add your egg whites and cream of tartar and mix at a medium speed for 2 minutes. It should be nice and frothy with no lumps from the cream of tartar.

After two minutes, pour in your melted sugar and water mixture

into your standing mixer while it's mixing. Turn it up to a higher speed for 2-3 minutes. You should be left with soft, fluffy meringue that doesn't drip when you spoon it.

Back to your trifle dish for the last time! Add your fresh raspberries around the edge of your dish, on top of your pineapple layer. Then add your now cooled custard. Give it a stir if it's become a little set.

Then, add your meringue layer on top. You can optionally blowtorch the top for a nice finish and/or add edible gold leaf – it's up to you! The hot water and sugar mixture will cook the meringue so there's no need to do anything else to it.

Enjoy!
More gluten-free recipes, including festive recipes! 
Follow us on Facebook, Twitter and Instagram for all the latest recipes, news and features from Gluten-Free Heaven.