Pumpkin Soup
A delicious seasonal recipe for Carrot, Parsnip and Pumpkin Soup
Pumpkin Soup recipe from Mash Direct, that will warm up a chilly autumn night.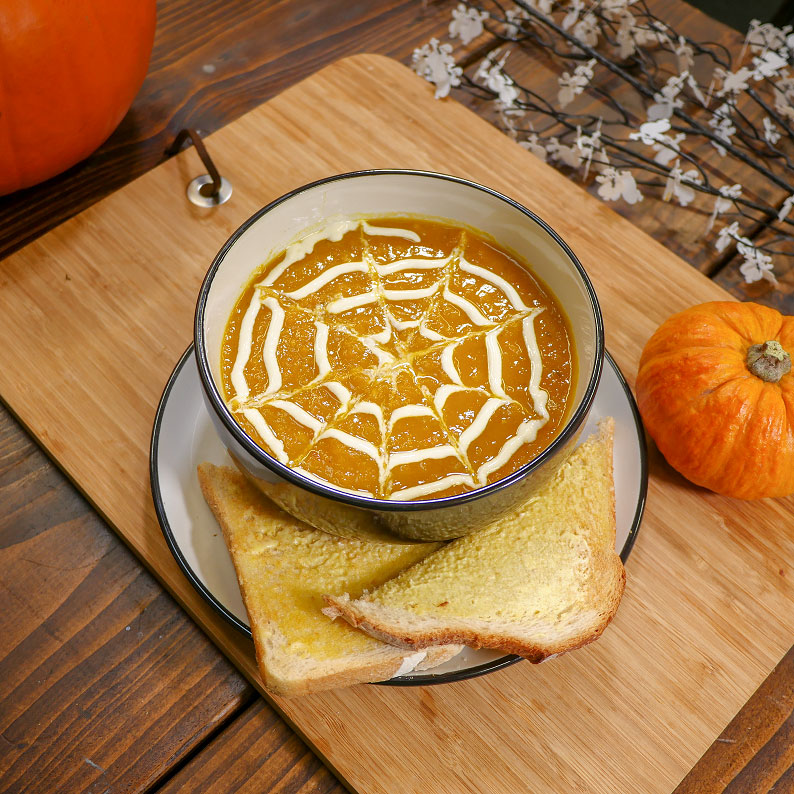 Serves: 6
Cooking Time: 45 minutes
Ingredients
1 pack of Mash Direct Carrot & Parsnip Mash
1 medium onion (diced)
2 sticks of celery (chopped)
2 tsp fresh ginger (finely chopped)
3 cloves garlic (minced)
2 cans vegetable or chicken broth
1 pumpkin (peeled, deseeded, diced)
1 cup of water (more if needed)
1/4 tsp dried thyme
1/4 tsp ground cumin
Salt & pepper to taste
Heavy/whipping cream or fat-free sour cream
Method
Sauté the onion and celery in a large pot on a medium heat for five-seven minutes.
Add the ginger and garlic to the pot, stir, and cook for two minutes until fragrant. Add the Mash Direct Carrot & Parsnip Mash, vegetable broth, pumpkin, water, dried thyme, cumin, and salt & pepper to taste.
With the lid slightly ajar, simmer the soup on medium-low heat for about 30 minutes or until the vegetables have softened.
Let the soup cool slightly, then purée in batches using a blender. If the soup is too thick, add water to thin it out a bit.
Serve with a swirl of fat-free sour cream if desired. For the spooky season, the spider web design can be made using a wooden kebab skewer.
Mash Direct (www.mashdirect.com) combines six generations of the Hamilton family's farming expertise to produce an extensive range of delicious and award-winning 'field to fork' vegetable accompaniments, created fresh on their farm with the true taste and texture of home cooking.
Available in multiple retailers, the Mash Direct range can be found in Ocado, Waitrose (346 stores), Co-op (421 stores), Nisa (482 stores) as well as Booths, Amazon Fresh and various independent retailers such Budgens and Keelham Farmshop.
Mash Direct's Carrot & Parsnip Mash is RRP £1.49 and is a twice winner of a Great Taste Award.
Follow us on Facebook, Twitter and Instagram for all the latest recipes, news and features from Gluten-Free Heaven.
Tags:
Autumn
,
Gluten-Free Diet
,
Gluten-Free Lunch
,
Gluten-Free Recipes
,
Soup