Roasted Tomato, Pesto & Olive Quiche
A delicious gluten free and dairy free tart full of flavour with the addition of vegan pesto and roasted tomatoes. Perfect warm or cold and ideal for summer picnics.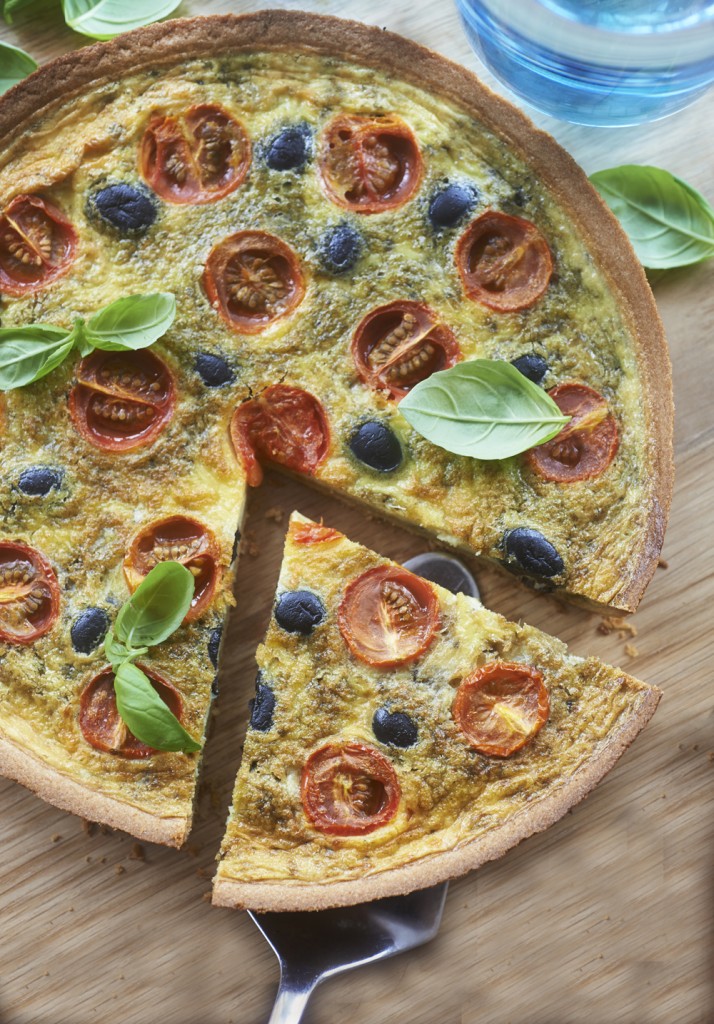 By Christine Bailey.
This recipe is: suitable for vegetarians, dairy-free, gluten-free.
Preparation time: 20 minutes | Chilling time 15 minutes | Cooking Time: 50 minutes | Serves: 6
Ingredients
Base:
120g almond flour

40g tapioca flour / starch

Pinch of sea salt

Pinch of smoked paprika

Freshly ground black pepper

60g dairy free spread or coconut oil

1 large egg

2-3 tbsp water to bind
Filling:
10 cherry tomatoes, halved

Drizzle of olive oil

Pinch of garlic salt

3tbsp vegan pesto

(see this recipe for how to make vegan pesto)

4 free range eggs

50ml coconut cream*

100ml dairy free milk e.g coconut milk or almond milk

Handful of black olives, pitted and halved

Handful of Basil leaves to decorate
*Note: Instead of coconut cream you could use all almond milk. Other dairy free milks would also work well.
Method
Make the pastry. Place the almond flour, tapioca, seasonings and diced dairy free spread in a food processor.  Process until the mixture resembles fine breadcrumbs.  Add the egg and process briefly adding a little water until the pastry forms a ball.

Knead lightly, shape into a round and wrap in clingfilm.  Chill for 15 minutes.

On a lightly floured surface roll out the pastry to fit a 20cm / 8inch loose bottom tart tin. Trim the tart by placing the rolling pin firmly over the top.

Preheat the oven to 190°C, gas mark 5.

Bake blind. Line the pastry case with baking parchment and fill with baking beans.  Bake the pastry case for 15 minutes then remove the paper and beans and bake for a further 5 minutes to crisp the base.  Remove from the oven.

Meanwhile place the tomato halves in a shallow roasting tin.  Drizzle over a little olive oil and garlic salt and bake for 15 minutes until soft.

Spread the pesto over the base of the pastry case

Lightly whisk the eggs, then whisk in the cream and coconut or almond milk. Season with salt and pepper.

Pour into the pastry case and arrange the tomatoes over the top, cut-sides up. Scatter with olives and bake for 30 mins until puffed and golden, then leave to cool slightly before serving.
---
About the author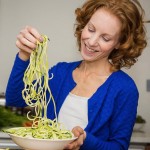 Christine is an award winning Nutritionist, Chef and Author. As well as seeing clients and writing for national press, Christine runs 'Nourish' cookery classes including popular hands on days for children. Christine is an inspiring nutritional chef well known for her engaging style and enthusiasm. She is the author of numerous health and recipe books including her latest book Supercharged Juices and Smoothies. You can visit Christine's website here.  See some of Christine's tips for eating gluten-free in our post all about hosting a free-from dinner party.
Check out more of our delicious gluten-free recipes on the site, and of course for even more, grab a copy of the magazine.
Tags:
Dairy-Free
,
Dairy-Free Lunch
,
Gluten-Free
,
Gluten-Free Lunch
,
Meat-Free
,
Pastry
,
Recipes
,
Summer
,
Vegetarian