Roasted Butternut Squash Alfredo with rigatoni
A recipe for gluten-free Butternut Squash Alfredo with rigatoni pasta
A delicious lunch or dinner, this Butternut Squash Alfredo recipe is best served with gluten-free pasta, such as rigatoni and is suitable for vegans.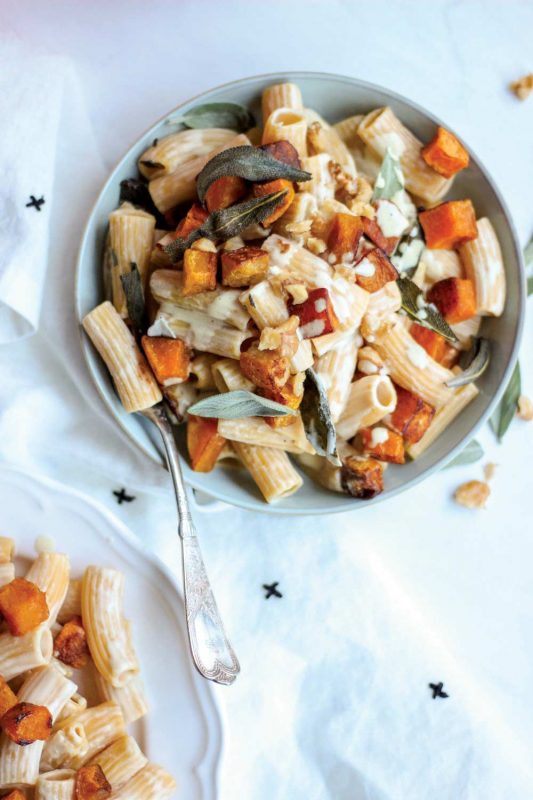 Roasted butternut squash and sage alfredo with rigatoni
Ingredients
450

g

butternut squash, cubed

olive oil

8

fresh sage leaves, plus some smaller fresh ones to serve

3

garlic cloves, peeled, roughly chopped

115

ml

Califia Unsweetened Almond Milk

40

g

cashews, soaked in water for a least 1 hour, then drained

2

tbsp

nutritional yeast

1

tbsp

fresh lemon juice

1

tsp

garlic powder

500

g

gluten-free pasta

salt and freshly ground black pepper, to taste

toasted walnuts, roughly chopped

(optional)
Instructions
Preheat the oven to 200°C/Gas Mark 6. Lightly oil a baking tray and arrange the butternut squash cubes on it. Sprinkle with salt and pop in the oven. At the 20-minute mark, take out the tray, flip the cubes over with a spatula, sprinkle over the sage leaves, then rotate the tray. Put it back in the oven for another 10-15 minutes until the butternut squash is golden brown and tender.

While the butternut is roasting, make the sauce: Heat 1 tbsp olive oil in a small pan over medium-low heat. Add the garlic and cook, stirring for 1-2 minutes, or until fragrant but not browning. Add the almond milk and a generous pinch of salt and pepper and bring to a simmer, stirring occasionally, for 3 minutes at a simmer. Remove from the heat and transfer to a blender.

Add the cashews, nutritional yeast, lemon juice and garlic powder and blend until smooth. Season to taste.

Cook the pasta according to the packet instructions. Drain and mix in a few spoonfuls of sauce, tossing to combine. Fold in the roasted butternut and crispy sage leaves, adding more sauce for the desired consistency. Top with fresh sage leaves and toasted walnuts.
Nutrition Facts
Roasted butternut squash and sage alfredo with rigatoni
Amount Per Serving
Calories 571
Calories from Fat 147
% Daily Value*
Fat 16.3g25%
Protein 21.2g42%
* Percent Daily Values are based on a 2000 calorie diet.
Follow us on Facebook, Twitter and Instagram for all the latest recipes, news and features from Gluten-Free Heaven.
Tags:
Dairy-Free
,
Dairy-Free Dinner
,
Dairy-Free Lunch
,
Dairy-Free Recipes
,
Egg-Free
,
Gluten-Free Diet
,
Gluten-Free Dinner
,
Gluten-Free Lunch
,
Gluten-Free Recipes
,
Pasta
,
Sugar-Free Diet
,
Sugar-Free Dinner
,
Sugar-Free Recipes
,
Vegan and Gluten Free
,
Vegan Dinner
,
Vegan Lunch
,
Vegan Recipes