Parties (sigh). If you're not struggling to find something to wear, wondering where you'll park or flipping a coin for who'll be the designated driver, Ali Walsh takes her hat off to you. And that doesn't even touch on the main problem: what on earth you'll be able to eat.
So here I'm going to explore four tricky situations and how to handle them. Namely, whether it's okay to:
A) Take your own food to a party;
B) Expect your friend to cate gluten-free
C) Serve only gluten-free food at your own party;
D) Contact a caterer directly for a work/family function

Taking your own food
If you're worried about cross-contamination, that your friend won't entirely understand your needs or simply that there won't be much you can eat, you may prefer to take your own food to a party. I'd suggest contacting your host first and talking things through. One person I know bought a new baking tray and kept the gluten-free food on it hidden so their coeliac guest could be treated (if only all friends were this amazing!).
But it's not always that easy. A colleague went to great lengths to cater for me once, only for a guest to dunk his flatbread into the main gluten-free dish. After that, I was too wary to eat anything.
Contacting a caterer directly
When you have to eat at a big work function, it may seem prudent to contact the caterer directly to check the food they'll be preparing is suitable. After all, you're saving someone else the hassle of doing it, you'll be certain you've made your needs clear and you may feel less anxious.
That said, the person who's organising the works do might not feel the same way. They may have lots of dietary requirements to deal with and feel it's easier if just one person handles the catering company, not ten or twenty different people phoning up to check their own requirements. Furthermore, they may have to prove due diligence if someone complains they've been ill from eating something they shouldn't.
But that doesn't mean you should assume everything will be okay. Liaise with your work events co-ordinator first. Get them to reassure you everything will be suitable for your diet and make sure they know about cross-contamination. If you don't feel confident they've understood your needs, gently remind them if you're ill because of their mistake, you'll be off sick from work.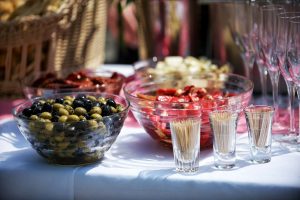 ---
Naturally gluten-free party food
✔ Crispy potato skins with… bacon and cheese, tomato & spring onions or sour cream & chive.
✔ Hummus & carrot sticks
✔ Ready salted crisps (e.g. Tyrrells, Kettle Chips, Tesco Finest).
✔ Cheese & pineapple sticks (in a hedgehog shape if you're feeling creative!)
✔ Salted peanuts (check 'may contain' labels).
✔ Devils or angels on horseback (i.e. prunes or oysters wrapped in bacon).
✔ Melon in Parma ham
✔ Nachos made with… tortilla chips, sour cream, guacamole, salsa & melted Cheddar cheese (Asda Smart Price Lightly Salted Tortilla Chips are gluten-free).
✔ Fruit kebabs
✔ Chocolate fountain with… marshmallows, strawberries & honeycomb pieces (Mini chocolate fountains are available for under £20 from a variety of retailers).
---
Throwing your own party
If you think having a party means having to serve gluten, think again. There's plenty of delicious gluten-free food you can have, and anyone who tells you otherwise isn't worth inviting.
When I'm hosting a party, I'd far rather be chatting to my guests than slaving away in the kitchen. I've therefore put together a selection of ideas that require very little input (like chopping up Cheddar) or are simple to make (like crispy potato skins). If you want to throw a totally gluten-free party with drinks and nibbles but not a sit-down meal, there are three ways to do it: either serve naturally gluten-free food, go for the gluten-free alternatives, or a combination of the two. You know your guests best. If you serve gluten-free pies, will they constantly make comparisons?
Might they be astonished the pies taste so good? Or would you prefer not to fork out for umpteen pastries that might not get eaten? If budget or taste comparison is at the forefront of your mind, you may prefer to go naturally gluten-free.
READ: The best gluten-free party food recipes
Gluten-free alternatives
If you're desperate for a sausage roll or a garlic Kiev, there are plenty of gluten-free versions to choose from and I've listed ten of the best (see left). You'll see not everything is from the free-from section. Bear this in mind when you're at the supermarket so you don't accidentally dash past an aisle you'd otherwise have ignored.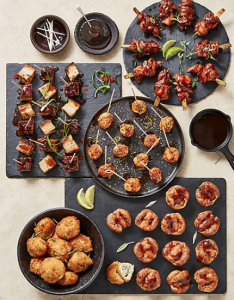 ---
Alternative GF foods
✔ Schär breadsticks
✔ Asda gluten-free sausage rolls
✔ Tesco free from southern fried mini chicken breast fillets
✔ Morrisons gluten-free garlic bread
✔ Waitrose sticky cocktail sausages
✔ Gü free from chocolate & vanilla cheesecakes (also vegan)
✔ Mr Kipling gluten-free mini cherry Bakewells
✔ Dr Oetker gluten-free pizza (choose mozzarella or pepperoni)
✔ M&S mini chicken garlic kievs
✔ M&S gluten-free party selection (64 pieces) – includes Asian-style chicken, pork belly squares, chicken kievs, toad in the hole & chicken yakitori kebabs
*As always, make sure you choose gluten-free versions of everything listed as some manufacturers also make gluten-containing products
---

The new drinks rules
Drinking gluten-free used to be pretty straightforward: avoid beer – wine's fine, so are spirits and cider. But things have changed recently, including non-alcoholic spirits, gluten-free beers and plastic reduction leading to straws being made from pasta. So here's a quick run-down of what's safe and what's not:
Safe drinks
Wine, Champagne, pure spirits (including grain spirits like whisky as the distillation process removes the gluten), cider, 100% pure fruit juice and smoothies, tonic water, soda water and coca-cola.
New to the game are naturally gluten-free non-alcoholic spirits such as Seedlip's Garden 108 and Caleno's Juniper & Inca Berry. Designed to be diluted with a mixer such as tonic water, they're a fantastic way to feel like you're having something special but without the alcohol.
WATCH OUT FOR:
✘ Pasta straws in bars, additives in mixers, barley water, oat milk and malted milk.
AVOID:
✘ Beer and ale except for certified gluten-free beers such as Daura Damm, OId Speckled Hen, Brewdog, Greene King IPA, Green's Premium Pilsner and more.
Bulk buy a pack of 12 gluten-free beers for £32.95 from www.bestofbritishbeer.co.uk
And finally…
Modern technology now makes it possible for us to find the best gluten-free food online, but only if someone shouts about it. So take advantage of the review section on supermarket websites and make sure you give 5 stars to the food you've loved, not forgetting to mention keywords such as 'coeliac' and 'gluten-free' so that it'll come up more readily in search engines for others. After all, the more awareness we can have for gluten-free, the more likely it is we'll find we've been catered for properly at parties, and wouldn't that be reason in itself to celebrate?
Follow us on Facebook, Twitter and Instagram for all the latest recipes, news and features from Gluten-Free Heaven.