This tasty gluten-free raspberry macaron cake is packed full of fruity flavour combined with the soft yet chewy texture of a macaron.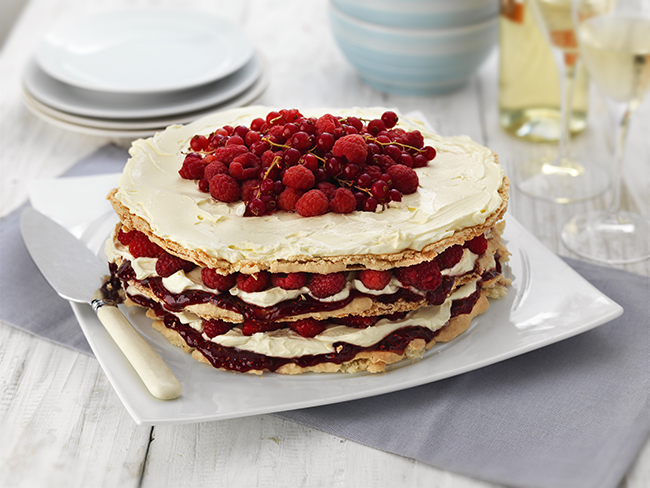 Gluten-free raspberry macaron cake
Serves:  8 | Preparation time: 25 mins | Cooking time: 20 mins
GF V 
Ingredients
250g/10oz ground almonds

350g/14oz icing sugar

6 large egg whites

A pinch of salt

150g caster sugar

For the filling:

300ml/10floz double cream

250g/10oz mascarpone

1 tbsp caster sugar

8 tbsp good quality raspberry jam

200g/8oz fresh raspberries


50g/2oz fresh redcurrants
Method
Heat the oven to 160°C, 320°F, Gas mark 3. Draw 3 x 23cm circles on greaseproof paper and place each onto a flat baking sheet (it is best to use a sheet with no sides as it makes it easier to remove once cooked).

Put the ground almonds and icing sugar into a bowl and stir. In a separate bowl whisk the egg whites and salt to form soft peaks before adding the caster sugar 2 tbsp at a time, whisking all the time until the mixture is thick and glossy.

Using a large metal spoon, fold the almond mixture into the egg whites. Spoon onto the 3 greaseproof circles and spread evenly with a palette knife. Tap each baking tray sharply on the work surface to level. Set aside for 15 minutes to form a slight skin.

Bake the macarons for 20 minutes until crisp around the edges. Remove from the oven and allow them to cool. Remove the greaseproof paper very carefully.

Whisk the cream, mascarpone, vanilla extract and sugar until it forms soft peaks. Put one of the macarons on a serving plate, top with half the jam and spread evenly, then spread carefully 1/3 of the cream and scatter over some raspberries. Repeat this with another macaron and then top with the final macaron. Spread with the remaining cream and decorate with the rest of the raspberries and redcurrants & serve.