Roasted Pumpkin, Ginger and Orange Soup
Not only do pumpkins taste delicious, they are also packed full of health benefits, which makes this warming roasted pumpkin soup perfect for snuggling up with this Autumn.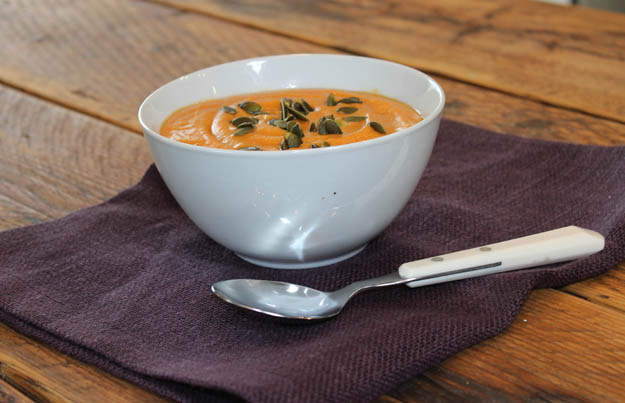 Roasted Pumpkin, Ginger and Orange Soup
By Kirsty Henshaw (www.kirstys.co.uk)
Serves 4 | Prep 10 minutes | Cook 40 mins |

GF SF DF EF V MF
Ingredients:
4 tbsps. olive oil
500g diced pumpkin
1 White Onion
10g fresh ginger (you may want to reduce this quantity if making for small children)
1 orange
1 ¼ pint gluten free vegetable stock
2 x bay leaves
Salt and pepper to taste
Leafy green herb to garnish, e.g., parsley, coriander, chives
Method:
Pre-heat the oven to Gas mark 7/220°C/200ºC (Fan).
Peel, de-seed and chop the pumpkin into small chunks. Place them in a roasting tin and cover with enough olive oil to lightly coat all the pumpkin chunks. Put in the oven to roast for 25 minutes.
Finely chop the onion.
Gently heat a small amount of olive oil in a large saucepan. Add the finely chopped onion and fry over a low heat until the onion is soft but not coloured. When ready remove from the heat.
Grate the fresh ginger into the pan containing the onion. Add the grated rind of the orange (try not to grate in the white pith as it can taste bitter).
Add the roasted pumpkin to the onion, grated ginger and grated orange.
Pour the vegetable stock over the pumpkin, onion, grated ginger and grated orange. Add the bay leaves. Gently bring to the boil, reduce to a simmer and cover. Simmer for 10 minutes.
Remove the pan from the heat and allow to cool. Remove the bay leaves and puree in a blender. Taste and season if necessary.
Return to a clean saucepan and gently reheat. Serve garnished with some finely chopped parsley, chopped chives or some fronds of coriander.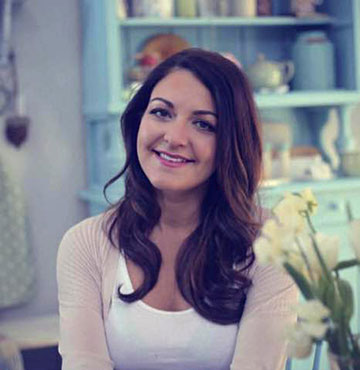 The 
Kirsty's
 range of healthy and nutritious gluten-free, dairy-free and wheat-free chilled ready meals was launched in 2012 by
Kirsty Henshaw.
Kirsty appearened on Dragon's Den, where she secured a healthy investment in her allergen-free frozen desserts. They have proved hugely popular with people who have Coeliac disease, and individuals with food allergies and intolerance's. You can find more recipe videos, and information both on her
YouTube
channel, and her
website
.
Comments
Tags:
Dairy-Free Lunch
,
Dairy-Free Recipes
,
Gluten-Free Lunch
,
Gluten-Free Recipes
,
Meat-Free
,
Paleo Lunch
,
Paleo Recipes
,
Soup
,
Sugar-Free Lunch
,
Sugar-Free Recipes
,
Vegan Lunch
,
Vegetarian recipes