Caribbean Tofu with Coconut Quinoa
This protein-packed quinoa and crispy tofu recipe comes with a winning combination of coconut, lime and spice.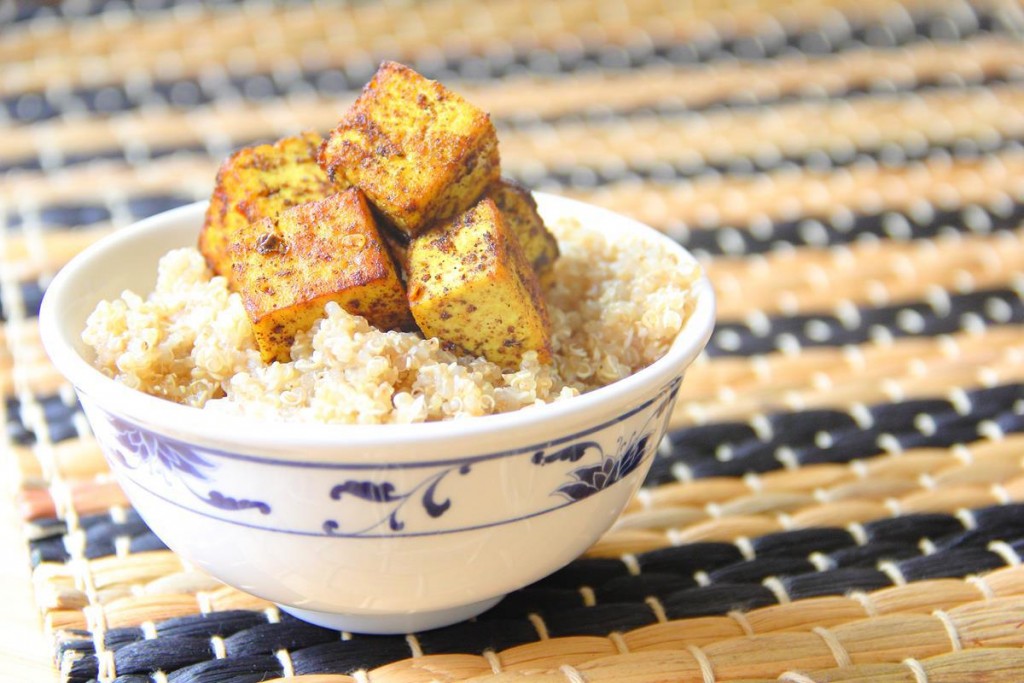 This recipe is: gluten-free, dairy-free, meat-free, egg-free. Suitable for vegetarians & vegans.
By Natalie Tamara of The Tofu Diaries.
As I ate this Caribbean Tofu with Coconut Quinoa a couple of sunny Saturdays ago, I knew I would have to share it first. Mixing lime and coconut with earthy spices and fiery chillies may just be the best way to carry them into a summery savoury dish.
To give the tofu pieces a bit more of a bite and to encourage them to crisp up properly, I pressed the tofu for almost an hour to make it extra extra firm. If you don't have that much time though, half an hour will suffice to get a good firm texture. Just as tofu does, quinoa soaks up flavours so well so you could add a little coconut milk as it is cooking to make it extra coconutty and give it a creamier texture too.
Serves 4
Prep time 40 mins
Cook time 20 mins
Ingredients:
For the tofu:
800g extra firm tofu; drained, pressed for at least 30 minutes, and cut into cubes

2tbsp olive oil for cooking
For the marinade:
2tsp ground coriander

1tsp turmeric

1tsp ground all spice

1-2tsp chili flakes

1tsp black pepper

Juice of 2 limes
For the quinoa:
200g quinoa, well rinsed

350ml water

2tbsp desiccated coconut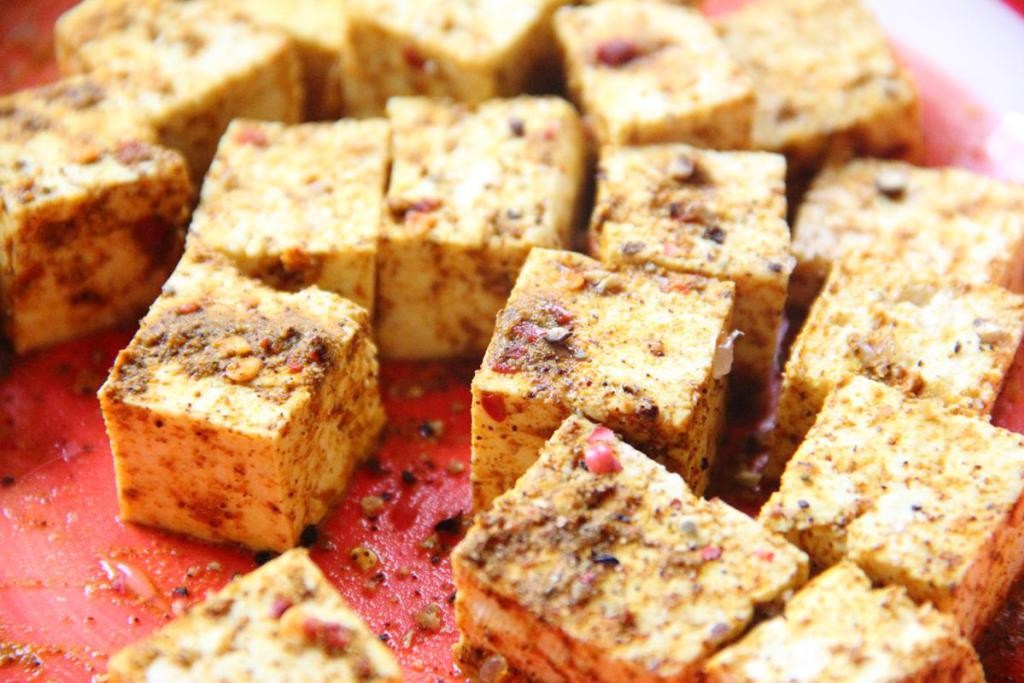 Method:
In a large bowl, mix all of the marinade ingredients together until they form a smooth liquid.

Add the cubes of tofu to the bowl and coat thoroughly in the marinade. Set aside.

In a large pan, bring the water to the boil. Once boiling add the rinsed quinoa, stir once, and simmer for ten minutes. At the this point, add the desiccated coconut, stir well and simmer for a further five to six minutes. If at any point it begins sticking to the pan, add a little extra water.

After adding the coconut to the quinoa, heat the olive oil in a frying pan over a medium-high heat.

Once the oil is hot, carefully place the cubes of marinated tofu into the frying pan. Fry for around five minutes, turning frequently, until it has browned on all sides. Remove from the heat and use kitchen paper to remove any excess oil.

Remove the quinoa from the heat, set aside for two minutes, then fluff up with fork.

Serve as it is or with a sauce of your choice.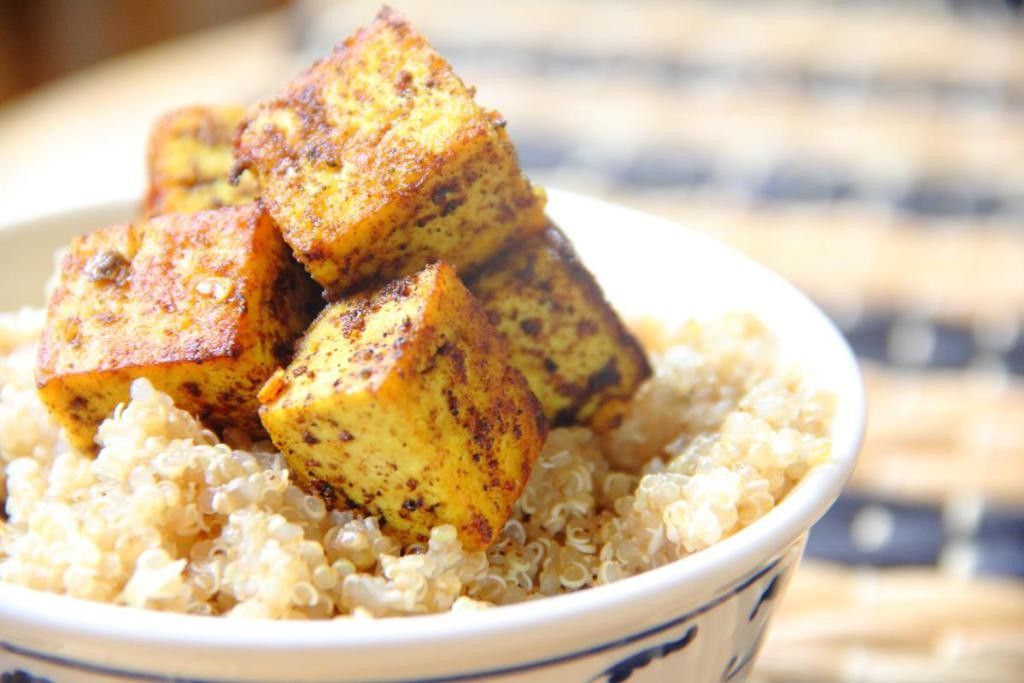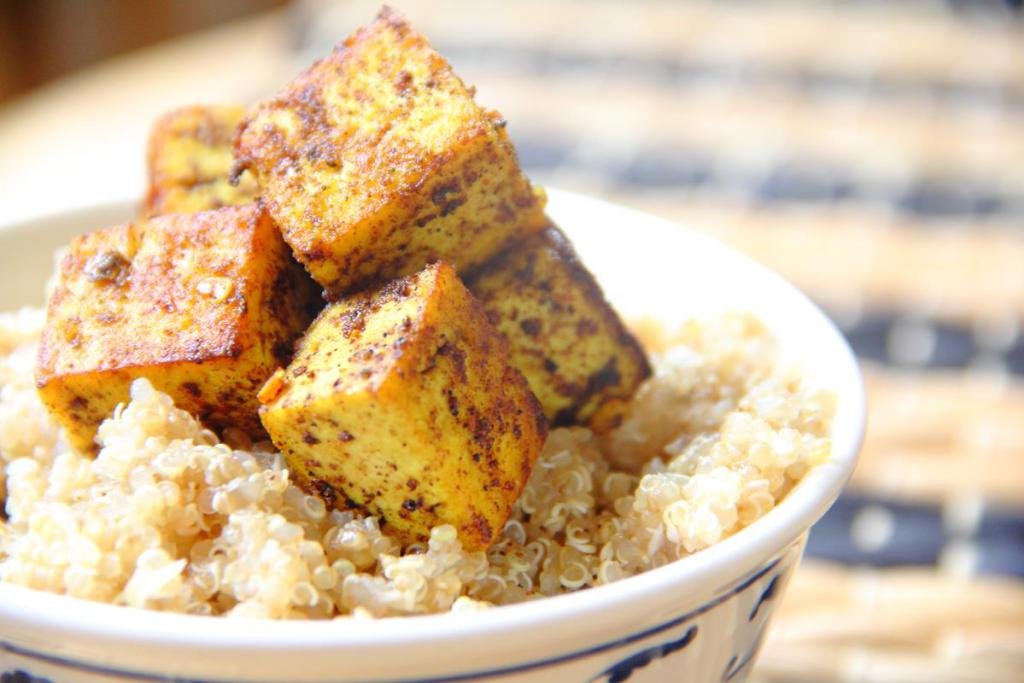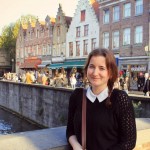 About the author: Natalie Tamara is the author of vegetarian and vegan food blog The Tofu Diaries. The vast majority of her recipes are vegan, with a few including cheese or honey making them suitable for vegetarians. Natalie Tamara also posts about cruelty-free products, and about her travels across almost 60 countries (and counting). You can find her on Twitter and Pinterest.
See more of our tasty veggie dishes.
Tags:
Dairy-Free
,
Dairy-Free Lunch
,
Egg-Free
,
Gluten-Free
,
Gluten-Free Lunch
,
Meat-Free
,
Paleo Lunch
,
Recipes
,
Sugar-Free Lunch
,
Vegan
,
Vegan and Gluten Free
,
Vegan Lunch
,
Vegetarian
,
vegetarian lunch