Antalyan White Bean Salad
This salad recipe perfectly accompanies Tofu & Spinach Börek and is deliciously and naturally gluten-free and dairy-free….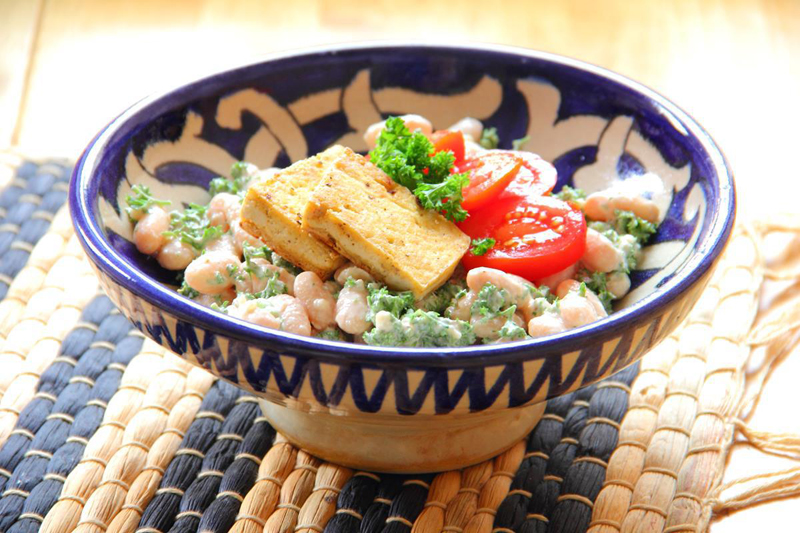 By Natalie of The Tofu Diaries
If I had to name my favourite cuisine, well I'm not sure I could. But I can tell you that Turkish food would have to be up there somewhere: fresh bread, hummous, stuffed aubergine, vegetable kofta, I could go on. Despite the meaty kebabs and sausages that would come to mind for a lot of people, it's safe to say the Turkish cuisine is exceptionally vegetarian and vegan friendly.
This white bean salad is based on the traditional Turkish 'piyaz' – a salad made from white beans, thinly sliced onion and a vinegar-based dressing topped with tomatoes and boiled eggs. What makes the Antalyan variation of piyaz that much more interesting is the addition of tahini. The creaminess of tahini makes it perfect for a vegan salad dressing so I knew I had to base my Antalyan recipe on this dish. To fully veganise the Turkish bean salad, I replaced the boiled egg with some crispy tofu.
I do have one confession to make though: 'piyaz' is actually Persian for 'onion' which is why onion is a central component of the salad. Mine doesn't contain any onion. I'm really not a fan of raw onion – it's so overpowering and you can taste it for the rest of the day – but if you wanted a more authentic version then add a thinly sliced white onion to the salad mix!
This recipe is vegan, gluten-free, dairy-free and refined sugar-free.
Ingredients | Serves 4
For the salad:
235g cannellini beans, cooked
25g fresh parsley, chopped
1tsp black pepper
For the Dressing:
3tbsp tahini
3tbsp lemon juice
2tbsp apple cider vinegar
2 cloves garlic, crushed
For the Topping:
4 plum tomatoes, sliced
50g tofu, well pressed and cut into 4 pieces
2tsp olive oil
1tbsp fresh parsley, chopped
Method:
To prepare the tofu for the topping, heat the olive oil in a frying pan on a medium-high heat. Add the tofu slices and fry for around five minutes, turning occasionally, until it is crisp and golden on both sides. Drain on kitchen paper and set to one side.
Whilst the tofu is cooking, mix the dressing ingredients together until they are smooth. The tahini may appear to curdle at first but quickly becomes smooth.
Add the salad ingredients to a large bowl. Mix in the dressing, until the beans are thoroughly coated.
Top the bean salad with the tomatoes, fried tofu and extra parsley and serve.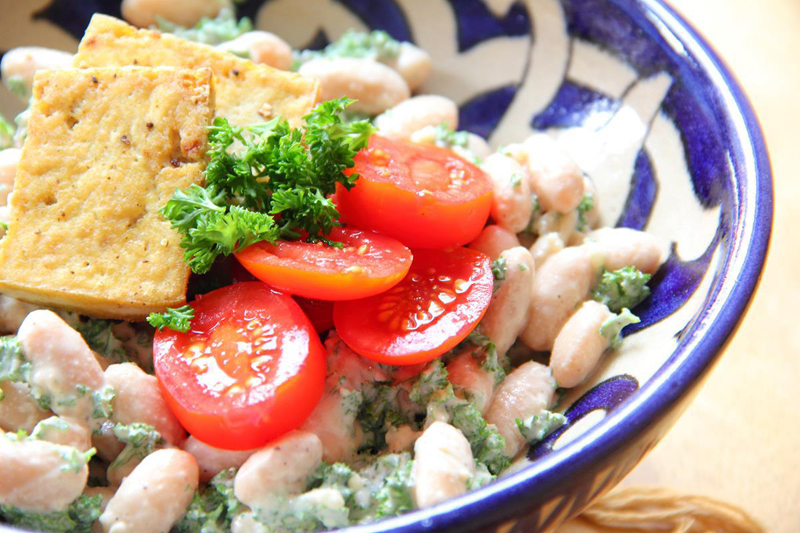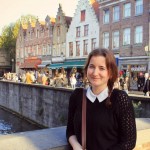 About the author: Natalie Tamara is the author of vegetarian and vegan food blogThe Tofu Diaries. The vast majority of her recipes are vegan, with a few including cheese or honey making them suitable for vegetarians. Natalie Tamara also posts about cruelty-free products, and about her travels across almost 60 countries (and counting). You can find her on Twitter andPinterest.
See more of our tasty vegan recipes.
Tags:
Dairy-Free
,
Dairy-Free Lunch
,
Egg-Free
,
Gluten-Free
,
Gluten-Free Lunch
,
Meat-Free
,
Paleo Lunch
,
Recipes
,
Salad
,
Sugar-Free Lunch
,
Vegan
,
Vegan Lunch
,
Vegetarian
,
vegetarian lunch