Scrumptious, yummy roast potatoes covered in garlic and served with crunchy asparagus and lemon. Ideal for a summer BBQ in the garden.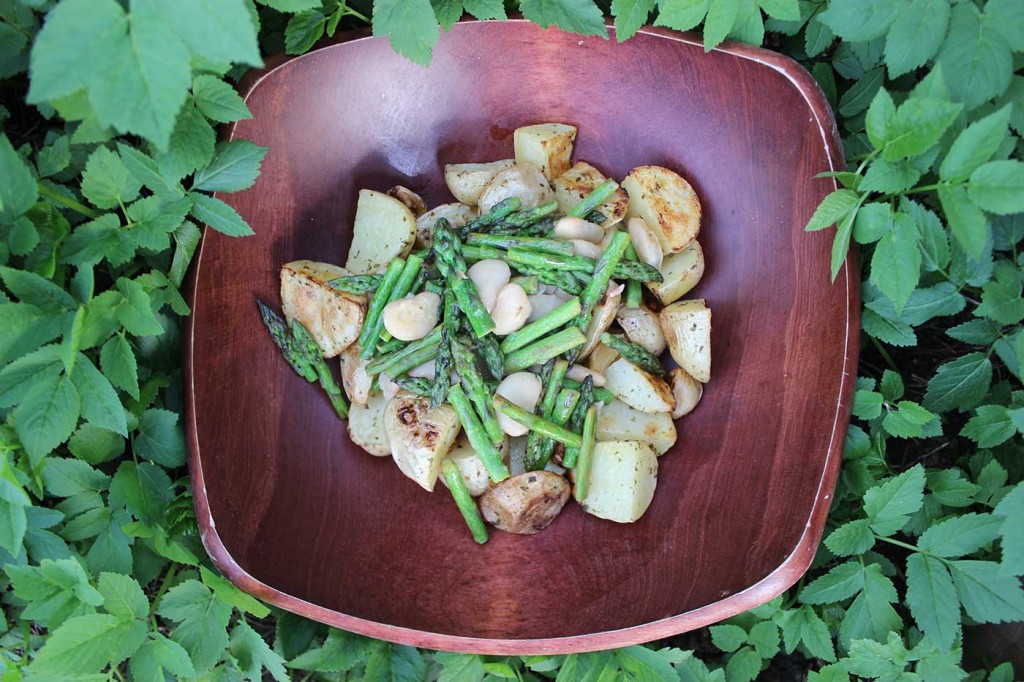 By Amy of The Kale Kitten.
Since the warmer weather has arrived I've been out to our local farmers market every weekend. This warm salad was inspired by shopping for local produce and is so easy to make. It's been a goal of mine to shop locally as much as I can. In the winter months its next to impossible to get in a variety of produce while supporting the local economy. I've realised, spending money at farmers markets and supporting local farmers is so important for a few reasons. The people you are supporting feel an obligation to uphold certain standards. You actually know where your food is coming from and how it gets to your plate. You hold buying powder and influence supply and demand.
The more money we put into local farmers the more demand there will be for locally grown produce. Shopping locally saves you money because the imported items you buy at chain grocery stores come with a premium. This of course lowers your carbon footprint, reducing the amount of transportation and greenhouse gases associated. Most importantly when you buy locally you create a sense of community, which is fulfilling for both the consumer and seller.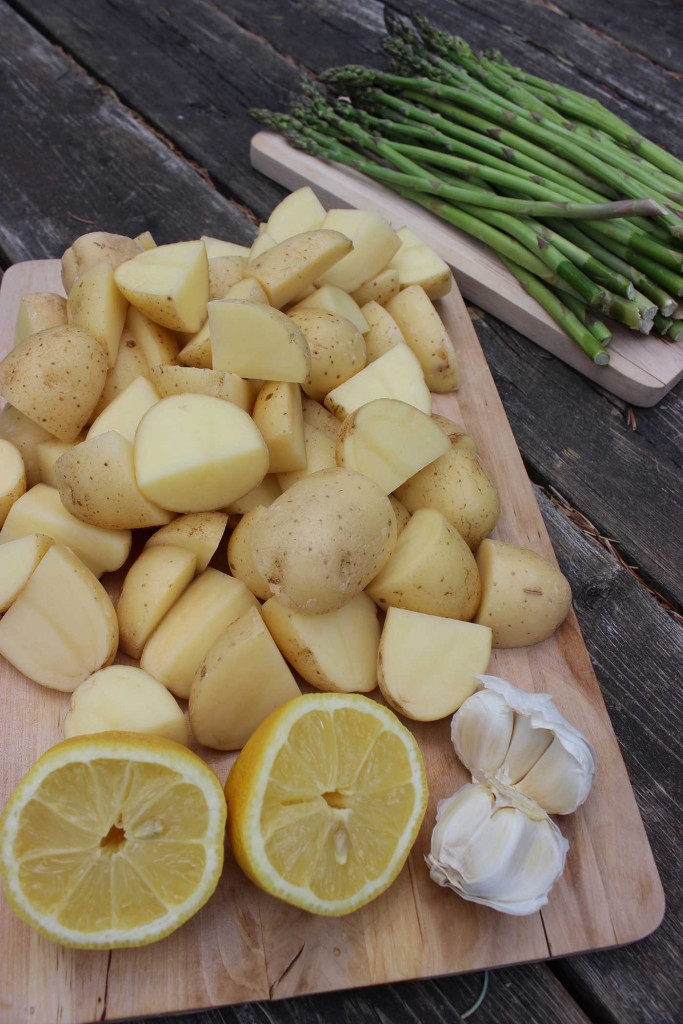 This recipe is gluten-free, dairy-free, egg-free, vegetarian and vegan.
Serves 4 | Prep time 10 mins | Cook time 30-45 mins
Ingredients:
4 cups of diced new potatoes

2 lbs of fresh asparagus

1/2 head of garlic

1 tbsp dill

Juice of 1 lemon

1 can of rinsed butter beans

2 tbsp of olive oil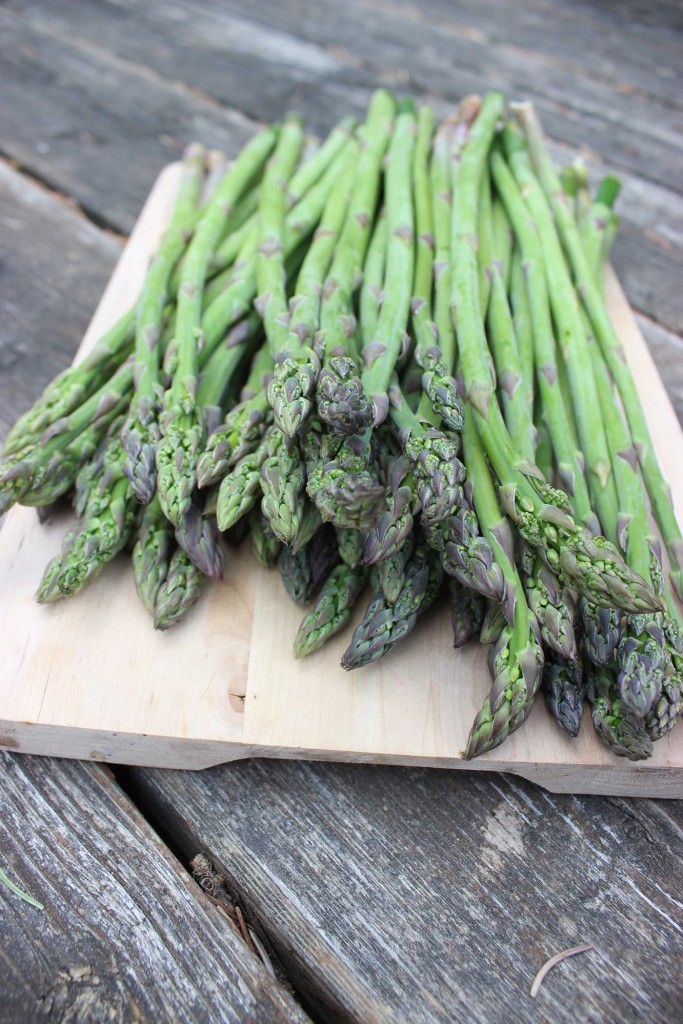 Method:
Preheat oven to 400 degrees.


Rinse and scrub potatoes and cut into quarters or bite sized pieces. Peel individual cloves of garlic. In a mixing bowl coat potatoes and garlic with one tablespoon of olive oil and dill.

Cook on a non-stick baking sheet in the oven for 30-45 minutes until golden brown.

During the last 15 minutes of cooking time start preparing your asparagus. Cut spears into equal pieces, discarding 2 inches at the end of the stalk. In a large frying pan add remaining tbsp of oil and gently sautee on medium high heat until tender, but still crunchy. Add in the juice of one lemon and butter beans for approximately 2 minutes just until heated through.

In a large mixing bowl combine all ingredients and serve warm.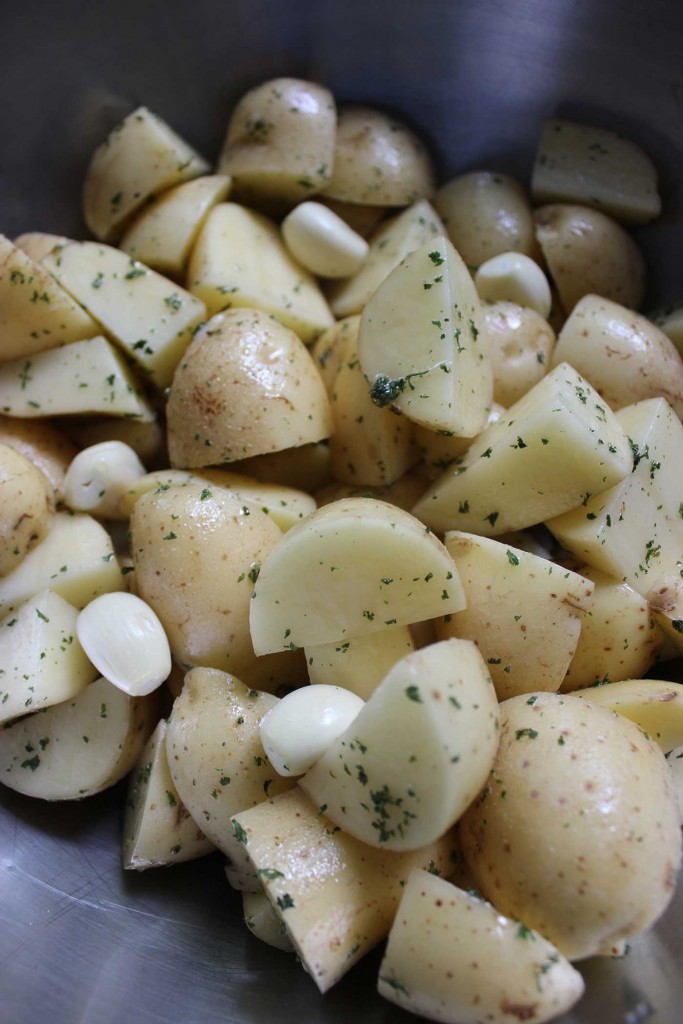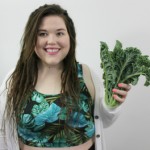 Amy runs the blog The Kale Kitten where she posts about body confidence and fashion amongst posting some delicious vegan recipes, since she became vegan over a year ago. She is a body positivity advocate and likes spending her time taking bubble baths, listening to amazing music and learning about health. You can also find her on Instagram and Twitter.
Check out more of our delicious gluten-free recipes and vegan recipes! For even more, grab a copy of the magazine.