Cranberry, walnut and dark chocolate gluten-free flapjacks
Cranberry, walnut and dark chocolate gluten-free flapjacks recipe by Charlotte Davies of Fibro Food Fairy
The ultimate snack, these gluten-free flapjacks are packed full of fruit, nuts and chocolate, making it both healthy and delicious!
It is best to slice the flapjacks while they are slightly warm. Once cooled, the flapjacks can be stored in the freezer or eaten straight away.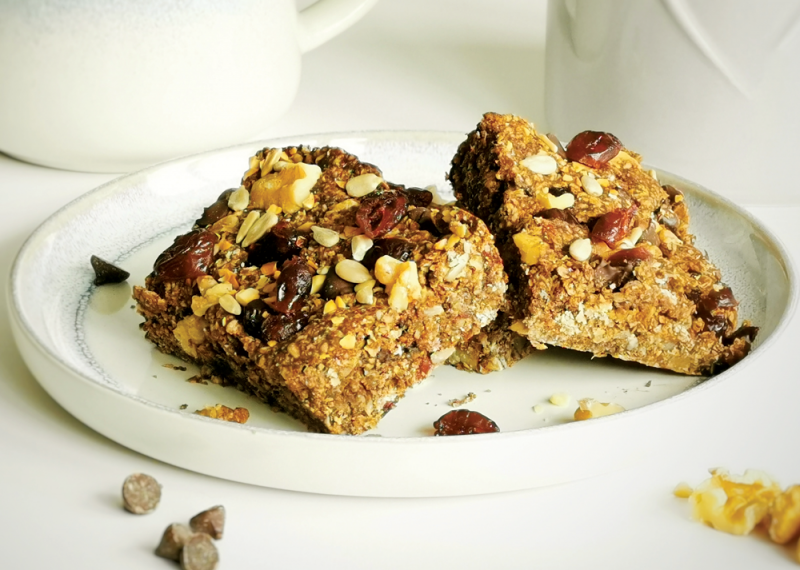 Fibro food fairy tip #1
It is possible to buy preprepared chopped dates in some supermarkets, however, these may be a little hard to come by. As the dates will be blended in the food processor after soaking, it doesn't matter if you can't get hold of the pre-prepared chopped dates.
Fibro food fairy tip #2
If you don't have any greaseproof paper, a good quality non-stick tin should be okay to use. However, using greaseproof paper makes it easier to remove the flapjacks and saves on washing-up.
Fibro food fairy tip #3
I find it easier to use my hands when pressing the mixture into the tin as it means that you can get into the edges and corners.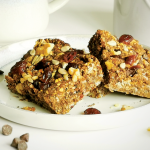 Cranberry, walnut and dark chocolate gluten-free flapjacks
Ingredients
150

g

finely chopped dates

(see tips)

75

g

walnuts

50

g

sunflower seeds

50

g

dark organic dairy-free chocolate (70-90% cocoa solids)

110

g

coconut oil, melted

1

tbsp

blackstrap molasses

2

tbsp

cacao or good quality cocoa powder

50

g

ground almonds

75

g

dried cranberries

250

g

gluten-free porridge oats
Instructions
Place the chopped dates into a heatproof bowl and cover with 110ml (4fl oz) boiling water. Set aside and leave to soak for half an hour.

Meanwhile, place the walnuts, sunflower seeds and dark chocolate into a food processor and pulse to roughly chop into small chunks. Transfer to a large mixing bowl.

After the dates have been soaking for 30 minutes, transfer to the food processor and blend to a purée. Add the date purée to the walnut mixture along with the rest of the ingredients. Mix and combine. Preheat the oven to 130oC/Gas Mark 1.

Transfer to a brownie tin lined with greaseproof paper and bake in the oven for 35-40 minutes until golden brown.

Leave in the tin to rest for a few minutes, before using the edges of the greaseproof paper to lift the flapjacks out. Transfer to a wire rack to cool completely.
Nutrition Facts
Cranberry, walnut and dark chocolate gluten-free flapjacks
Amount Per Serving
Calories 217
Calories from Fat 126
% Daily Value*
Fat 14g22%
Protein 5g10%
* Percent Daily Values are based on a 2000 calorie diet.
As featured in the December 2019 issue of Gluten-Free Heaven magazine
More gluten-free baking recipes
Follow us on Facebook, Twitter and Instagram for all the latest recipes, news and features from Gluten-Free Heaven.
Tags:
Chocolate
,
Dairy-Free Dessert
,
Dairy-Free Recipes
,
Egg-Free
,
Gluten-Free Baking
,
Gluten-Free Dessert
,
Gluten-Free Diet
,
Gluten-Free Recipes
,
Nuts
,
Vegan
,
Vegan and Gluten Free
,
Vegan Dessert
,
Vegan Diet
,
Vegan Recipes