Paleo fruit cookies
Grain-free vegan paleo fruit cookies that are free from sugar, nuts and seeds
These delicious paleo fruit cookies are auto-immune compliant and have very low calories. While the amount of sugar is low, the amount of taste is still high! Give these fruit cookies from Ambra Torreli a try for yourself.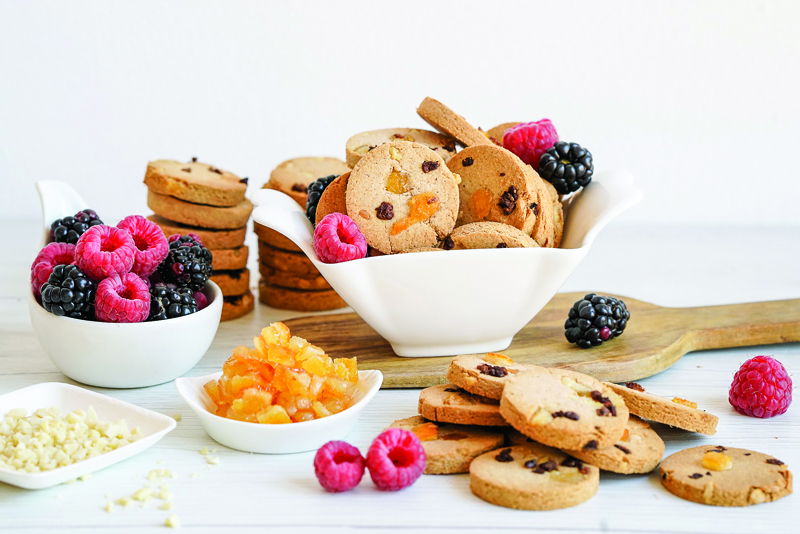 Paleo fruit cookies
Ingredients
FOR THE COOKIES
40

g

tigernut flour

50

g

arrowroot flour

50

g

cassava flour

30

g

coconut milk

1/8

tsp

ginger powder

1/8

tsp

cinnamon powder

70

g

coconut oil (melted)

1

tbsp

vanilla extract

2

tbsp

fruit liqueur of Limoncello or Moscato

The alcohol will evaporate while baking. If you need to avoid this, use unsweetened apple juice.

2

tbsp

freeze-dried strawberries or raspberries, crushed

2

tbsp

freeze-dried banana, crushed

2

tbsp

candied orange zest (if you can't find shop-bought, make your own)
FOR THE CANDIED ORANGE ZEST
grated zest of 1/2 an orange

1

tbsp

maple syrup

1/2

tsp

vanilla extract

175

ml

water
Instructions
For the candied orange zest
Wash the orange well, slice into quarters, then remove the pulp and as much of the white pith as possible with a knife.

Dice the orange zest in little bits, add them to 115ml (4fl oz) water and boil for 20 minutes. Strain, then add 60ml (2fl oz) water together with the maple syrup and vanilla to a pan and bring to a boil. Simmer on low for 20 minutes, adding more water of needed.
For the cookies
Preheat the oven to 180oC/Gas Mark 4.

Combine all the ingredients in a bowl (except for the dehydrated fruit and candied orange), mix and knead well until you get a nice and smooth ball of dough. To save time, you can combine them all in a food processor.

Place the ball of dough over a sheet of parchment paper, cover with another sheet of paper and flatten down with your hands.

Sprinkle the crushed freeze-dried fruit and candied orange bits over the flattened dough, cover it again with parchment paper, then roll down again until 5mm (1⁄4in) thick.

Carve out cookies using your favourite cookie cutter, then bake in the oven for 15 minutes.
Nutrition Facts
Paleo fruit cookies
Amount Per Serving
Calories 32
Calories from Fat 20
% Daily Value*
Fat 2.2g3%
Protein 0.2g0%
* Percent Daily Values are based on a 2000 calorie diet.
Follow us on Facebook, Twitter and Instagram for all the latest recipes, news and features from Gluten-Free Heaven.
Tags:
Biscuits
,
Cookies
,
Dairy-Free
,
Dairy-Free Dessert
,
Egg-Free
,
Gluten-Free Dessert
,
Gluten-Free Recipes
,
Paleo Dessert
,
Paleo Recipes
,
paleo-diet
,
Vegan and Gluten Free