Polenta pizza
Polenta, or ground cornmeal, is the perfect way to create gluten-free pizza bases
A pizza that can be considered healthy? You're not dreaming, this polenta pizza recipe from Cookery School is exactly that! It's low calorie, low sugar and real simple to make.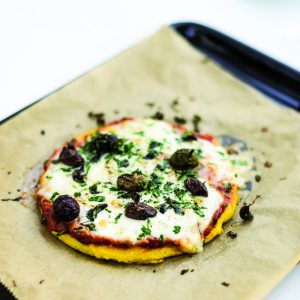 Polenta-based pizza
Ingredients
50

g

polenta, precooked and dried

200

g

water

topping of tomato sauce, mozzarella, parsley, dried oregano, olives, anchovies

salt and freshly ground black pepper
For the tomato sauce
2

onions, peeled, finely chopped

4

tbsp

olive oil

2-3

garlic cloves, peeled, very finely chopped

1

tin of tomato passata, chopped tomatoes

25

g

parsley or oregano chopped
Instructions
For the tomato sauce
Fry the onions in the olive oil until golden brown.

Add the chopped garlic and fry for a minute or so more. Add the passata or chopped tomatoes and parsley and simmer for about 20 minutes, or until the sauce has thickened.

Season to taste with salt and freshly ground pepper.

Instead of, or as well as, parsley, a good pinch of oregano can be added.
For the base
Preheat the oven to 250oC/ Gas Mark 9. Place the polenta and water in a large saucepan. Turn the hob to the highest setting and bring the mix to the boil, then immediately turn down to medium heat, stirring continuously until the polenta has thickened.

Turn the cooker down to the lowest setting, cover the saucepan and allow the thickened polenta to cook very slowly for about 10 minutes to ensure that it is softened and all the starch has been cooked.

Season with salt and pepper and, if desired, whisk in butter or olive oil for added richness.

Pour the polenta onto a greased tray on a circle shape, the size of the pizza that is desired, then allow it to set until firm, preferably in the fridge.

Bake in oven for 20 minutes, or until crisped on the top.

Top with the tomato sauce, cubed mozzarella, chopped parsley, dried oregano, olives and anchovies, if desired.

Return to the oven until the topping and cheese has melted and browned.
Nutrition Facts
Polenta-based pizza
Amount Per Serving
Calories 227
Calories from Fat 128
% Daily Value*
Fat 14.2g22%
Protein 2.9g6%
* Percent Daily Values are based on a 2000 calorie diet.
Comments
Tags:
Egg-Free
,
Gluten-Free Diet
,
Gluten-Free Dinner
,
Gluten-Free Pizza
,
Gluten-Free Recipes
,
Sugar-Free Dinner
,
Sugar-Free Recipes