The unusual mix of sweet and savoury flavours works perfectly in this gluten-free caramelised onion frittata with California prunes. This is a great recipe for lunch or even breakfast!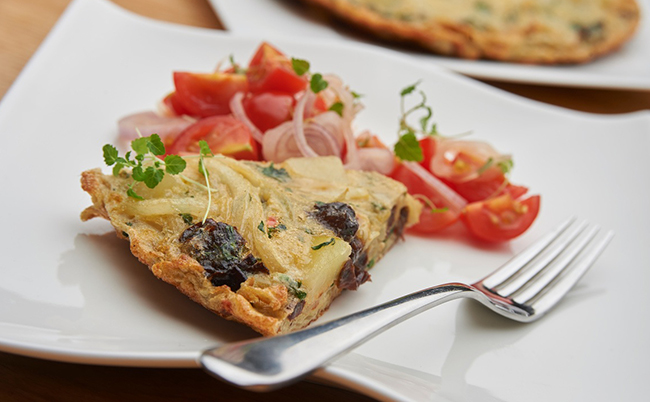 Caramelised onion & California prune frittata 
Recipe by Rosemary Shrager with California Prunes.
Serves: 2 | Preparation time: 10 minutes | Cooking time: 15 minutes
GF SF DF V (vegetarian) MF
Ingredients
4 California Prunes chopped finely
1 large Spanish onion sliced
1 medium potato diced into 1cm cube and par-boiled
½ red chilli finely sliced
small bunch of coriander, chopped
3 large eggs (if medium eggs are used you will need 4)
1 tbsp olive oil
Salt & pepper
Method
Heat oven to 160o
Add the oil to a non-stick frying pan and cook the sliced onion on a medium heat until dark brown caramel colour.
Add the chopped prunes and chilli, potato and a handful of chopped coriander.
Mix well and season. Remove from the heat and cool for a few minutes.
Whisk the eggs and season. Stir into the onion mix and cook on a low heat until the eggs are beginning to set. Place in the oven for a further 4 minutes to finish.
Serve with a tomato and spring onion salad.
For more information, please visit www.californiaprunes.co.uk