Try this creamy and fresh pasta alternative, made with zucchini (AKA courgette) for a wholesome gluten-free, vegan meal.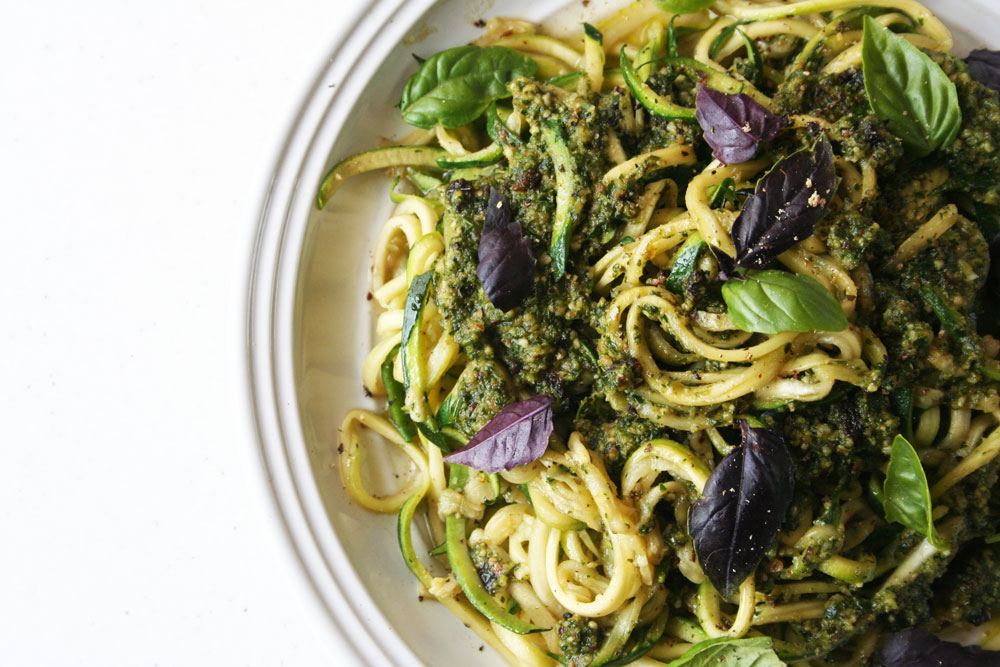 By Dhanistha of The Vegetarian Blog.
Today was a gorgeous morning. I had an early morning stroll through my garden-in-progress, and checked on my tomatoes for any new suckers, which are little stems that grow between the main stem and lower branch. Those naughty suckers take the vital energy from productive branches that will actually give you tomatoes. As I continued checking through my garden, I noticed my cilantro had grown relatively enormous compared to last week. And I thought, why not make cilantro pesto with all the basil I have (8 basil plants) growing right next to it. I picked a bunch of both from my garden and made a veganlicious pesto to go with zucchini noodles. One word for this concoction: Delicioso!
This recipe is gluten-free, meat-free, egg-free, suitable for vegan and vegetarian diets.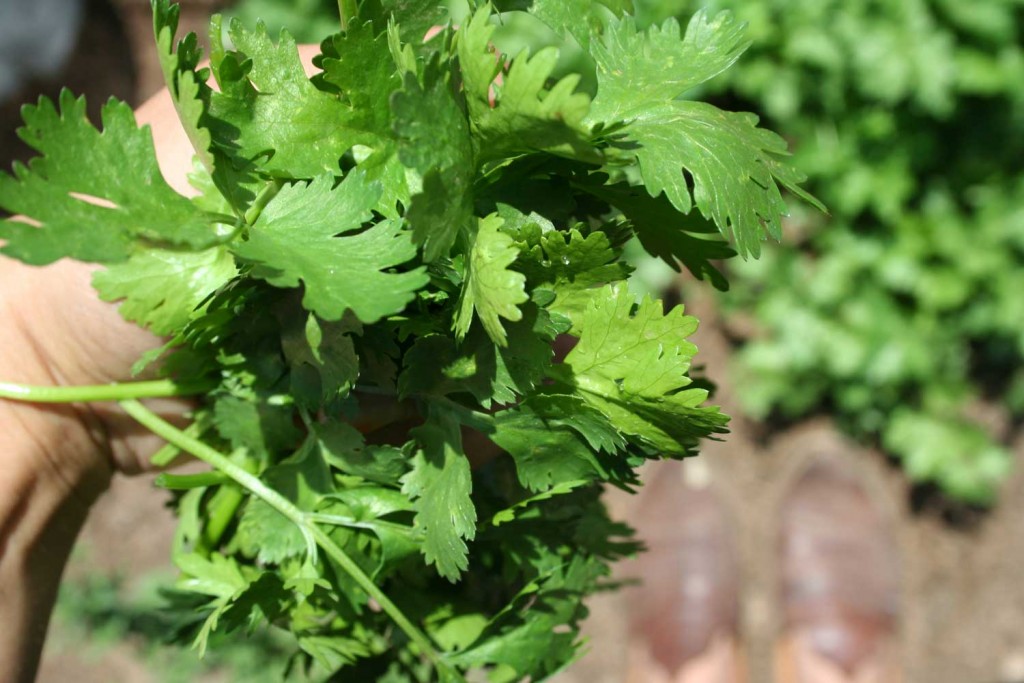 Serves 4
Ingredients:
Pesto
1 ½ cup cilantro (coriander), chopped
1 ½  cup basil
¼ cup olive oil
2-3 small cloves
2 tbsp sun dried tomatoes
⅓ cup almonds, toasted
2 tbsp fresh lemon juice
salt and pepper to taste
Zoodles
6-8 zucchini (courgette)
1 tbsp olive oil
1 tsp salt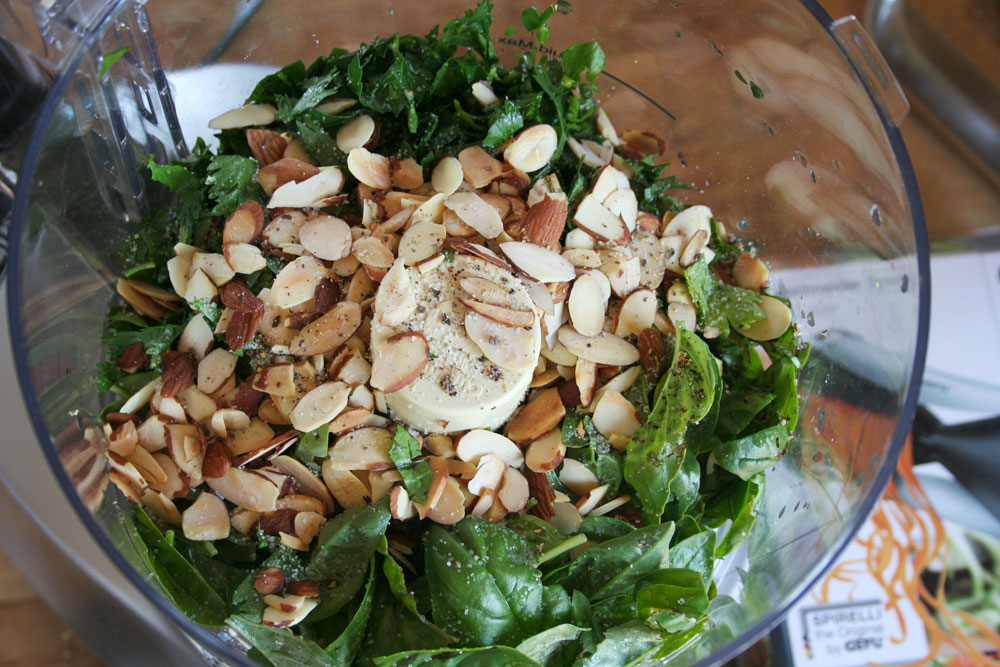 Method:
Spiralize zucchini with a vegetable spiralizer. Heat 1 tbsp of olive oil in a large pan on medium heat and place the zoodles (zucchini noodles) flat on the pan to make sure they cook evenly. Add salt and stir occasionally every other minute, to avoid sticking or burning.
Meanwhile add your all of your pesto ingredients in the food processor and blend till smooth but somewhat grainy. If it is too thick add more olive to emulsify.
Turn off the heat for the zoodles and fold in the pesto to mix in all the delicious flavors. Garnish with baby basil leaves and serve immediately.
Enjoy!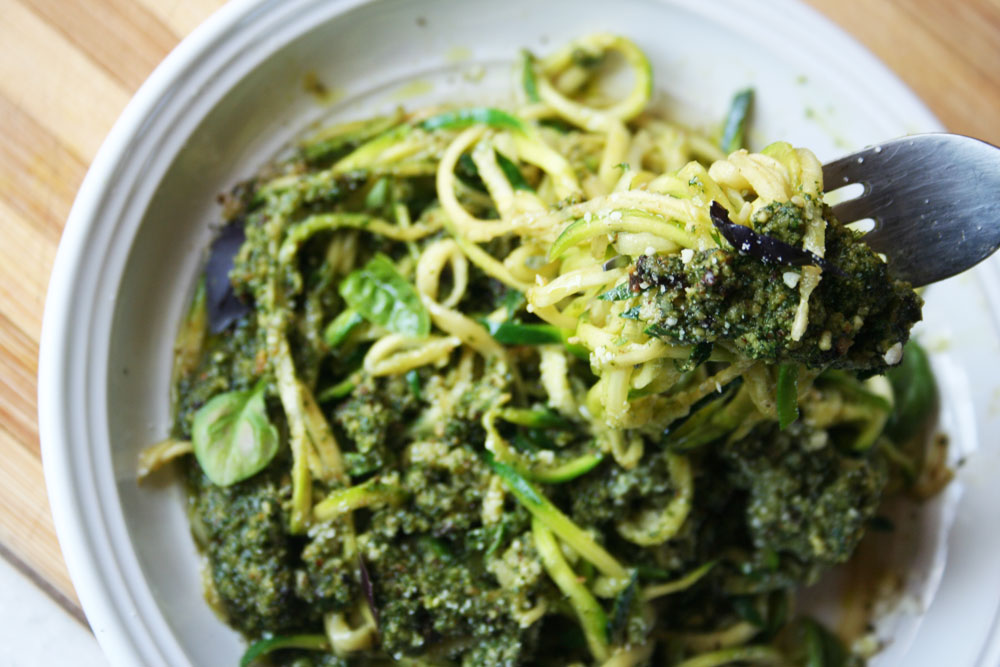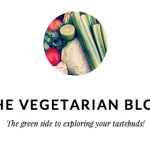 California based web designer and blogger Dhanistha runs The Vegetarian Blog, where she shares vegetarian, vegan and gluten-free recipes from different cultures. She is a huge fan of cooking with fresh ingredients and wholly encourages growing your own vegetables. Keep up with Dhanistha on Facebook and Instagram.
Check out more of our delicious gluten-free recipes and our vegan recipes! For even more, grab a copy of the magazine.