A Traditional Gluten-Free Christmas
Have a traditional gluten-free Christmas… This Christmas, gluten intolerance will be the last thing on your mind, thanks to these brilliant free-from swaps and recipe adaptations from Charlotte Willis.
Christmas has quite the polarising effect on the general population. It's the Marmite of all holidays, with camps divided into those who put their trees up in early November and begin buying presents for loved ones with the turn of the season, and those who like to bury their heads firmly in sandy denial until December 24th hits, before panic buying the last gluten-free Panettone on the shelf in Tesco. Whichever division of Christmas love or hate you fall into, there's one aspect of the holiday season that never fails to unite us – our love of traditional Christmas foods.
Make the holidays free-from
I'm definitely not the only one who fantasises about Christmas food in mid-July (don't lie, I know you've been thinking about mice pies while tanning yourself silly). Festive feasting is one of the most wonderful excuses to unite friends and family around a dinner table, sharing in those gluttonous foods which are reserved almost exclusively for Christmas. An experience which is made even better, and more inclusive, thanks to the wonderful modern-day availability of free-from products.
It seems that a free-from Christmas is becoming increasingly popular, as each and every year we see supermarkets fall over one another to bring out the latest and greatest must-have-free-from product of the holidays. 2018 went to Waitrose's Vegan Christmas Cake, and 2017 saw the Bailey's Almande liqueur skyrocket to the top of everyone's naughty list. Brilliant news for retailers, but even greater news for the millions of us in the UK on a gluten-free diet. We've also witnessed a huge surge in the number of gluten-free bloggers and recipe creators, celebrity chefs and mainstream cooking channels adapting their traditional and classic Christmas recipes into glorious gluten-free creations.
So if you're concerned about being 'that guest' at the next Christmas buffet, or looking for the perfect alternative stuffing recipe, you can rest assured that you're in good hands. There are many simple free-from substitutions you can incorporate into your Christmas food, helping you survive the festive holidays without enduring a single craving or painful stomach ache.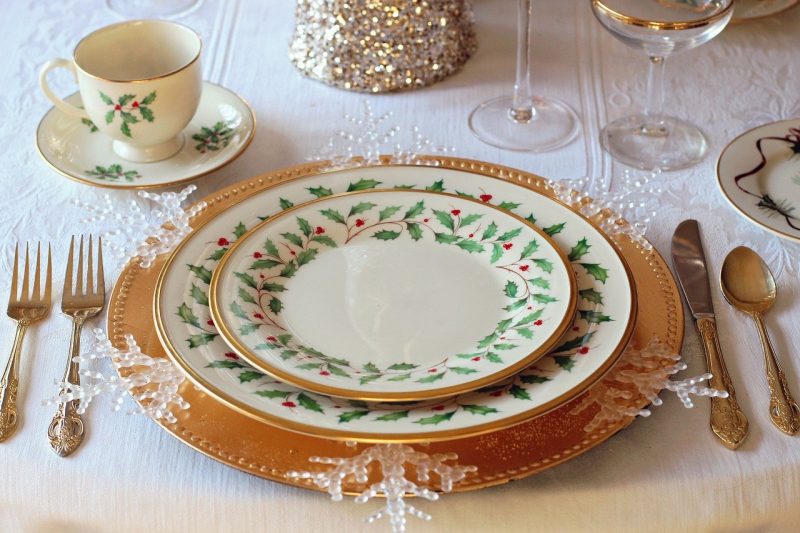 The main event
There are so many brilliant options to choose from when you're deciding on the main event for your Christmas meal. If you are choosing meat, I would recommend that you tell your butcher you are gluten-free, so that they can ensure they do not cross-contaminate their handling of potentially breaded or stuffed meats with your order. When it comes to creating the ultimate stuffing, I can recommend using a basic herby recipe, with the substitution of gluten-free breadcrumbs (either shop-bought or made by blitzing stale GF bread in a food processor or blender briefly) in your mix.
You'll also want to ensure the meat you are using for the stuffing (if you aren't creating a veggie version) is also certified as gluten-free. This is something you can check when purchasing the meat either at the supermarket or from a butcher. Alternatively, you can create a delicious veggie and vegan stuffing by substituting the meat for lentils and ground flaxseed.
If you'd rather create a veggie feast, there's no need to reach for a nut- roast. There are plenty of wonderful plant-based options available for you to buy and create. Whole roasted cauliflowers, soya or tempeh-based meat substitutes which can be roasted or baked, as well as nutty tarts, quiches, polenta-based veggie spreads and cheesy GF pastry-based bakes and slices.
TOP TIP: About a month or two before the main day, begin looking around in supermarkets to see if there are any gluten-free certified options that you think would make an ideal centrepiece for you. If you can't find anything that you like, start making plans to create your own dishes from scratch. By not leaving it until the last minute, you'll give yourself a better chance at success.
The sides
Side-dishes are pretty simple to make gluten-free. Most vegetable-based sides, such as potato gratin and pan-fried sprouts with chestnuts, will already be completely suitable for GF diets without the need for you to adjust the recipe. My best advice is to not overcomplicate your side dishes. The main course should be the flavoursome focal point of the meal, so keep the taste and seasoning on your sides minimal as to not create a meal which is too sensory overwhelming.
If you can't have your Christmas meal without a cauliflower cheese, you'll want to use a gluten-free plain flour blend (I like Dove's free-from plain flour blend for sauces and baking) to make the cheese sauce. The same goes for Yorkshire puddings, however, you'll want to use a lighter flour such as cornflour here, as this will create a fluffier textured pudding.
TOP TIP: Keep your side-dishes simple. Focus on complementing the main course with a variety of vegetables cooked simply and with minimal strong flavours or aromas. Try to make no more than three side dishes, each using a different cooking method, as to keep your meal interesting and fresh.
For example, I like to make a potato and white bean gratin, maple roasted carrots and a raw beetroot and kale coleslaw. Something baked, something roasted and something fresh to satisfy your hungry guests and refresh their palates.
The sauces
Making gluten-free gravy is a little complex, and can place an added amount of pressure on you as the host (or the guest who's been delegated the gravy-based task). Save yourself the stress and make sure you prepare your gravy ahead of time, using a roast dinner made previously to the big day and freezing the sauce once cooled. Now, when Christmas arrives, you'll only have to defrost the gravy and heat it up. Simple!
To make your gravy, you'll want to get your hands on some sweet rice flour (which may also be sold as rice flour, not the wholegrain variety). Rice flour swells and incorporates the flavours of your gravy better than other gluten-free flours while providing a nice texture and thickness.
Make a roux using equal parts rice flour and unsalted butter (or vegan/ dairy-free substitute), cooking the flour into a paste over medium heat. Then, begin to add your stock, which can be made using the juices from your cooking and the water from some of your steaming or boiling veg. Season to taste, and you're done!
Making a gluten-free bread sauce is also pretty simple. Just substitute the breadcrumbs for gluten-free breadcrumbs (either made from your own free-from loaves or you can sometimes buy GF breadcrumbs from supermarkets). You can also make this a dairy-free sauce by using soya milk instead of dairy, and plant-based margarine instead of butter.
TOP TIP: It's always nice for guests to have a variety of sauces to choose from. This in mind, aim to serve at least 2 different sauces for your main meal. Most shop-bought apple and cranberry sauces will already be gluten-free, but be sure to check the labels before you purchase.
The desserts
Gluten-free desserts are big business for supermarkets! As such, I can almost guarantee that you'll be truly spoilt for choice on your next Christmas shop. However, if your heart is set on making your own festive puddings, then you're in luck. There are plenty of incredible gluten-free recipes for classic Christmas puddings, cakes and mince pies sprawled across the internet and the pages of this magazine. Here are some general tips to help you along the way.
Firstly, if you've never made a gluten-free cake or pudding before, it's time to throw away everything you know about baking and be open-minded when tackling this challenge. When you bake with gluten-free ingredients, you'll be faced with new flours, gelling agents and binders which may leave you scratching your head. For the best results, look for recipes which have been tried and tested by an online community, or published by a reputable food blog, and then proceed to stick to the recipe like glue.
When making your gluten-free alternatives, you'll want to stock up on a good gluten-free flour blend. As previously mentioned, I like the Dove's Farm brand for general baking, and I have had success using it in recipes for gluten-free mince pies and Christmas puddings of yesteryear. However, you can also opt to use completely free- from flours such as almond, coconut or polenta in your bakes. Be cautious not to make the same mistakes as I have done, by simply changing the flour in a regular cake or pudding recipe, to a GF blend. Nope. It won't work, and you'll end up turning your recipe into an unintentional Eton Mess!
If you don't fancy something traditional, you're more or less free to explore a variety of different desserts in the realms of gluten-free baking and sweet treats. You could make a raw cheesecake, using a cashew nut cream and mixed nuts and dates for the base, or opt for a mousse, rum ice cream and grilled bananas or something completely different. Let your imagination run wild!
TOP TIP: If you're new to gluten-free baking, I would opt to create a Christmas pudding. These stodgy, steamed cakes are totally delicious and rich in fruits and nuts while being one of the most forgiving recipes you'll come across at Christmas time. They have a small amount of flour in them and are bound together by a large amount of fruit and wet ingredients, meaning the mix is unlikely to separate or crumble.
The snacks
Snacking is essential at Christmas, from cookies to truffles and the classic mince pie. Variety is just as essential as ensuring your eats are gluten-free. Raiding your nearest free-from aisle is a sure-fire way to fill your cupboards, but if you're looking for homemade snacking gluttony, here are some of my favourites.
I love having a variety of chocolate- dipped fruits in at Christmas time. Treat yourself to some of your favourite chocolate bars – milk and dark varieties – then dip or enrobe your fruits. You can freeze chocolate-dipped banana, apples, grapes and strawberries for about a week, while the dried fruit will be fine in a sealed container in a cupboard.
For further indulgence, make yourself a batch of mince pies using a GF pastry dough recipe and a jar of free-from mincemeat (or your own concoction). You can also make gingerbread biscuits using gluten-free plain flour, rum truffles dusted with hazelnuts and cocoa powder, and a fantastic Christmas cake made with gluten-free flour, following a specific recipe guide to help you.
TOP TIP: If you find yourself short of time, I would opt to pick up a variety of nuts, seeds, dried fruits and dark chocolates to create yourself a snacking board. You can even add some cheese and crackers, or mini free-from cakes from the supermarket, to help ensure any drop-in guests are well catered for.
Follow us on Facebook, Twitter and Instagram for all the latest recipes, news and features from Gluten-Free Heaven.
Tags:
Christmas
,
Features
,
Gluten-Free Christmas