Pizza and Beer: Guide to the perfect gluten-free night in
Happy pizza and beer day! We're celebrating with the ultimate guide to a good night in – gluten-free style!
Whether you fancy a snuggly night on the sofa or a fun get together you can't have a good night in without pizza and beer! This guide has all the options; those in need of a lazy night and those that want to get busy in the kitchen…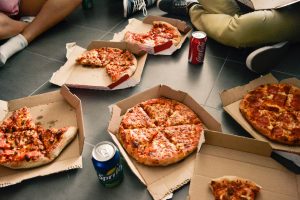 Pizza Takeaways:
Most places offer gluten-free options nowadays! Including:
Order yours now from Uber Eats.

Supermarket finds
Pizza
Own brands:
Beer
We have quite a few guides to the best gluten-free beer you can get your hands on!
Get Cooking
A few brands offer gluten-free pizza bases so you can add the finishing touches for yourself!
Grab them from Schar and BFree!
Or make your own pizza from scratch with our gluten-free pizza recipes…
Please note this post contains affiliate links.
Follow us on Facebook, Twitter and Instagram for all the latest recipes, news and features from Gluten-Free Heaven.
Tags:
Alcohol
,
Gluten-Free Lifestyle
,
Gluten-Free Pizza